A new powder room is great right? What about when that room didn't even exist in the first place? To know how we got here, I think we really need to go back to the very beginning. Before any walls had been knocked down, before any plan had been solidified and we were just brainstorming how we were possibility going to pull this off. Never in my wildest dreams would I have guessed that our LAUNDRY CLOSET (which was in the kitchen for some reason) would end up being a luxury powder room.
Really the main thing to know is that we did have a powder room on the main floor and frankly it was a decent size… it was just awkward. It sat square in the middle of the house which sure was convenient when you had to go, but it also completely cut our house in half. Not to mention it had a window that went right out to our deck…. You know so you could keep the conversation going while you're using the loo… It was just not going to work.
So, we developed a plan to move it. Using the plumbing from the washing/dryer probably should have been obvious, but it was my dad who actually came up with the idea. Then rather than running new pipes to somewhere that didn't have them, we just had to change out the ones that we had to support new plumbing needs.
The first thing that happened was the washer and dryer got moved upstairs to hall closet. We decided to keep the footprint of the original laundry closet for our bathroom so that it didn't take up too much of the kitchen. Is it the biggest bathroom in the world? No. Does it meet our needs for a guest bathroom? 100%
We got started framing out the new walls of the room while our plumber got to work redoing our piping. The main thing that needed to happen was a new, wider pipe had to be installed for the toilet. That also involved our plumber jackhammering into our cement basement floor to support the larger pipe. This is one of those moments that I'm so grateful our basement isn't finished!
The bathroom itself ended up being 31 inches wide, which is enough for a full vanity, a toilet and pretty much nothing else. Remember that vinyl floor? (Yea we want to forget it too.)
The studs going up was exciting, but it wasn't until the drywall went up, that it started to feel like a real room.
The tile we chose for this room was from floor and décor and is the Pietra Linear Polished Porcelain Tile. Not all tile is made for floors so make sure you look for the floor icon when selecting your tile. We opted for a white grout for a clean, classic look. Now that I think about it, this was probably the first step we made to making this into a luxury powder room.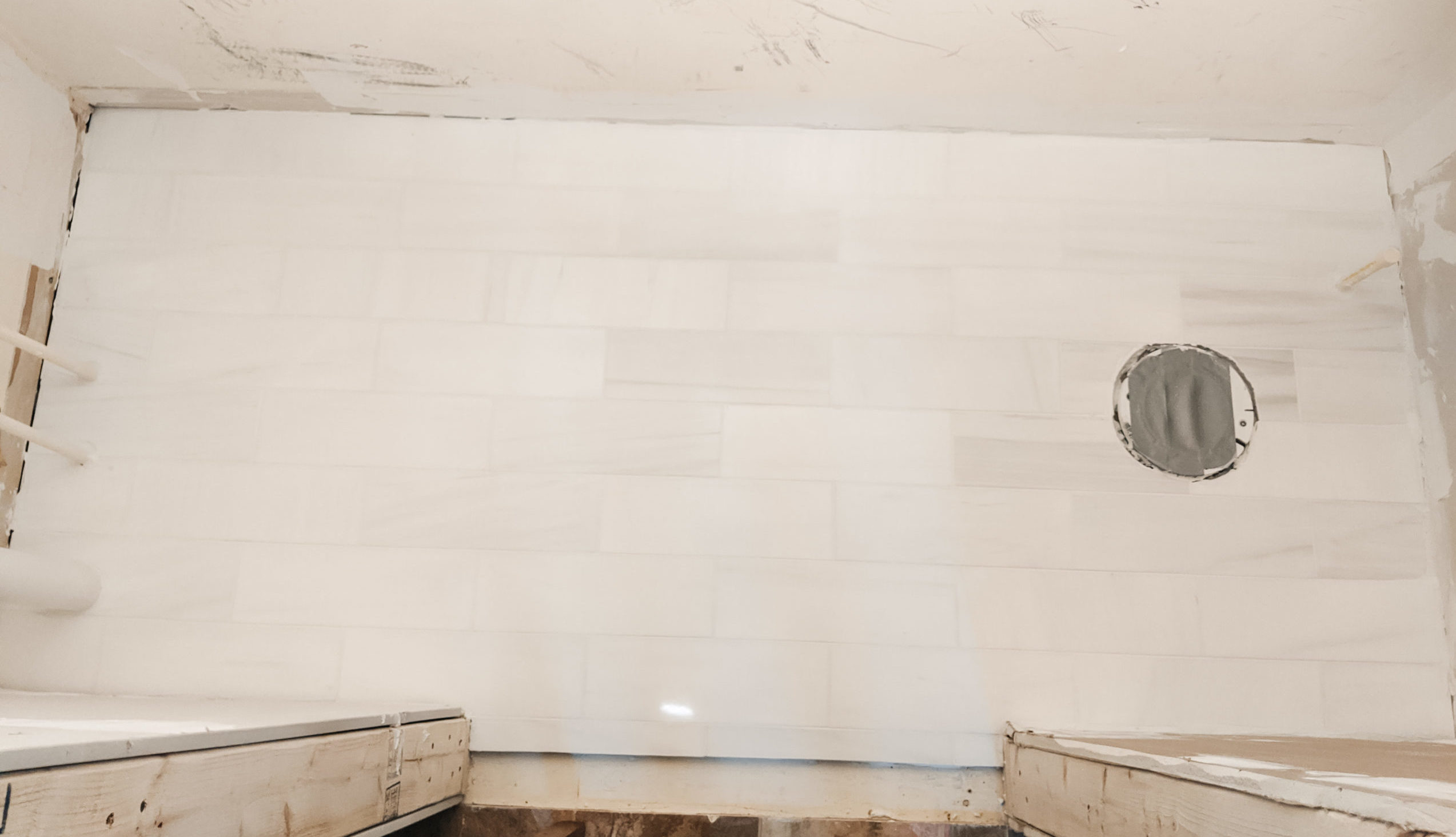 The walls were then painted and the toilet and vanity could then finally be installed. After that it was all about finishes. We chose an extra tall base molding which you can now find around our entire first floor which really gives the whole house a crisp updated look.
Kevin installed his first door officially making this a functioning bathroom! We opted for a basic, flat door as I plan to customize it later with fun trim.
Also note, the flood light still in the picture on the right. It took us about 3 months to get our vanity light delivered so this was the bathroom situation for a longgg time. Luckily for us, it was covid so no one was coming over, but it definitely made every pee an adventure.
We started from the bottom now we here: a luxury powder room
With the lighting finally installed, our new mirror and hardware, we had the luxury powder bathroom of our dreams. She may be small, but she's gorgeous.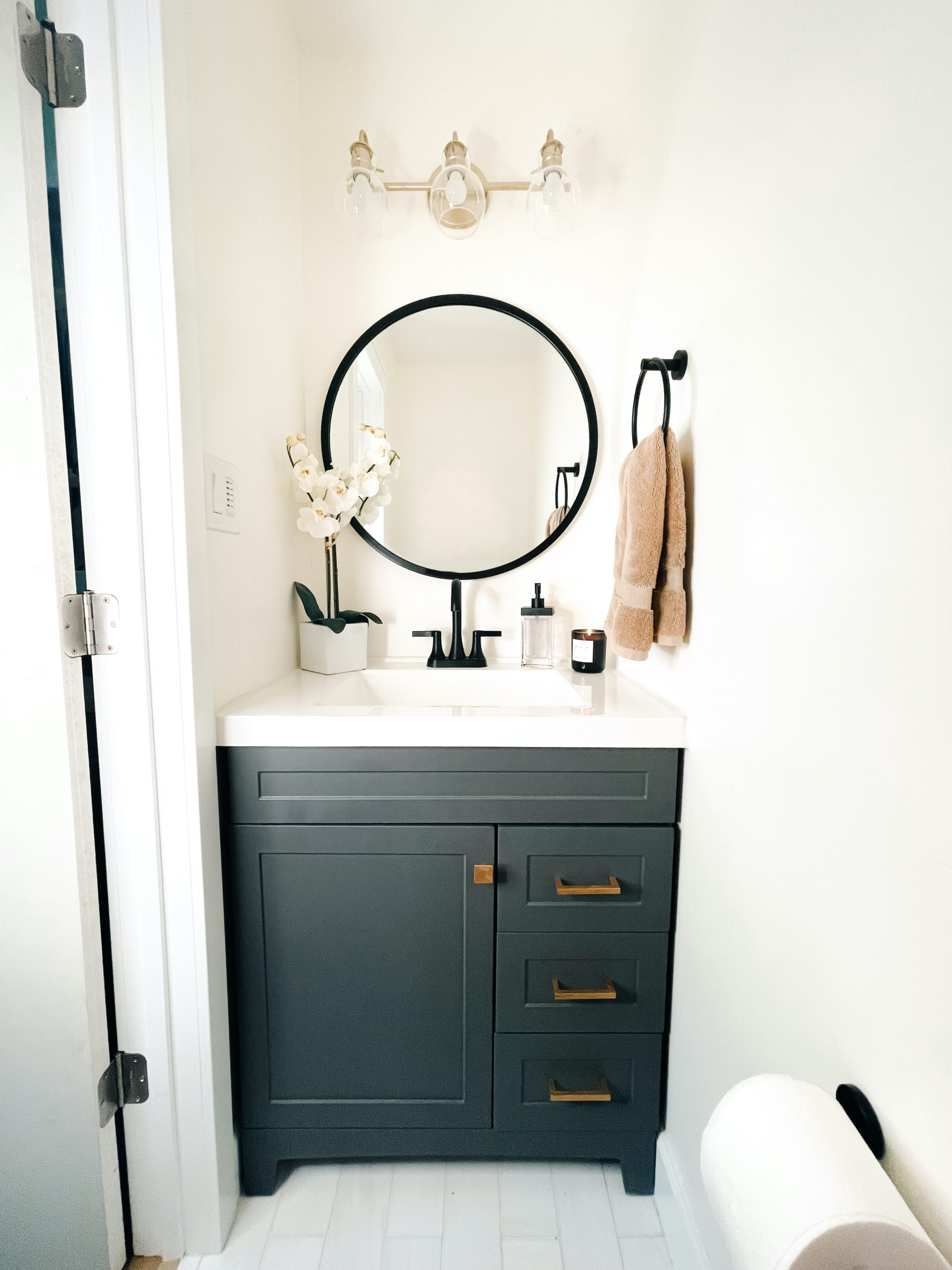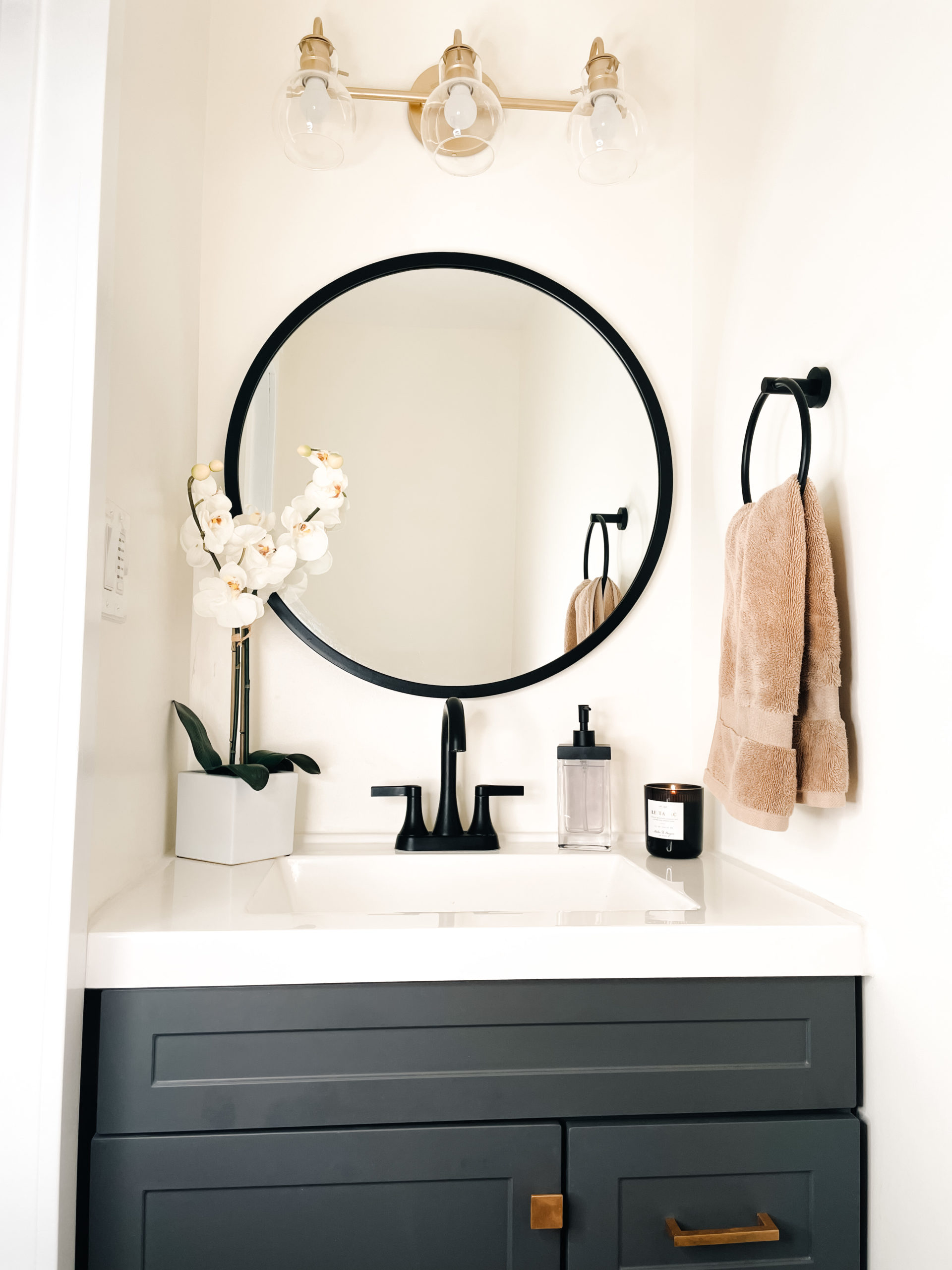 I can't wait to decide what to do next with the space. Do we add artwork? Paint detailing? What do you think?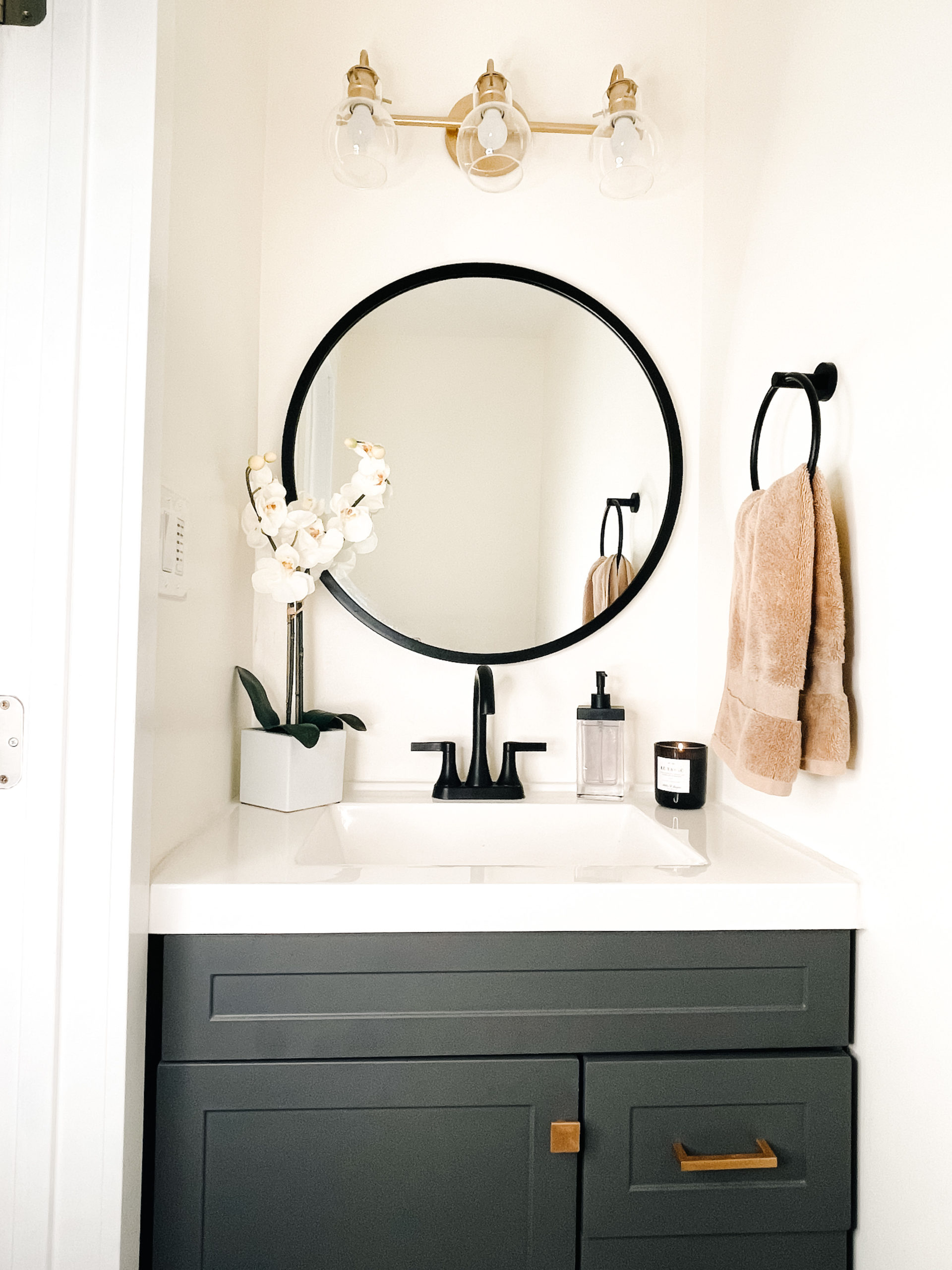 How does black hardware hold up overtime?
We chose black for our faucet, toilet paper roll and towel bar. So far the black is holding up amazingly, but I will admit you see every little piece of dust. This is especially not ideal for the toilet paper which by nature leave paper dust all over it. (I didn't actually know this before the black roll). I haven't seen any issues with water marks yet, but I'm not sure how that would change in a home with harder water. Do I love the black? Absolutely! It's beautiful and completes the room, but I'm probably also going to avoid using it in other bathrooms for the sake of my cleaning sanity.