Welcome to Kristen's Book Club!
I hope you're here because you're as obsessed with reading as I am! Every month, I'll release a list of all of the books I've read and let you know if I loved it, hated it, or if it was just okay. I love getting recommendations so if you have any suggestions, let me know in the comments below! Also let me know what you think of the books in book.
HOW IT WORKS:
LOVED IT: Pretty obvious – I was obsessed with this book and highly recommend you read it.
Just Okay: These are still decent books, just not my favorite. If you're looking for a good read I would still give these a go.
Not a Fan: I either couldn't get through it or struggled the whole time. These don't happen all that often so when they do, you know I mean it.
2022
September
Just Okay: A Court of Frost and Starlight (Sarah J. Maas), The Guest List (Lucy Foley)
August
LOVED IT: Book Lovers (Emily Henry), Mr. Wrong Number (Lynn Painter)
Just Okay: Good Girl Complex (Elle Kennedy)
July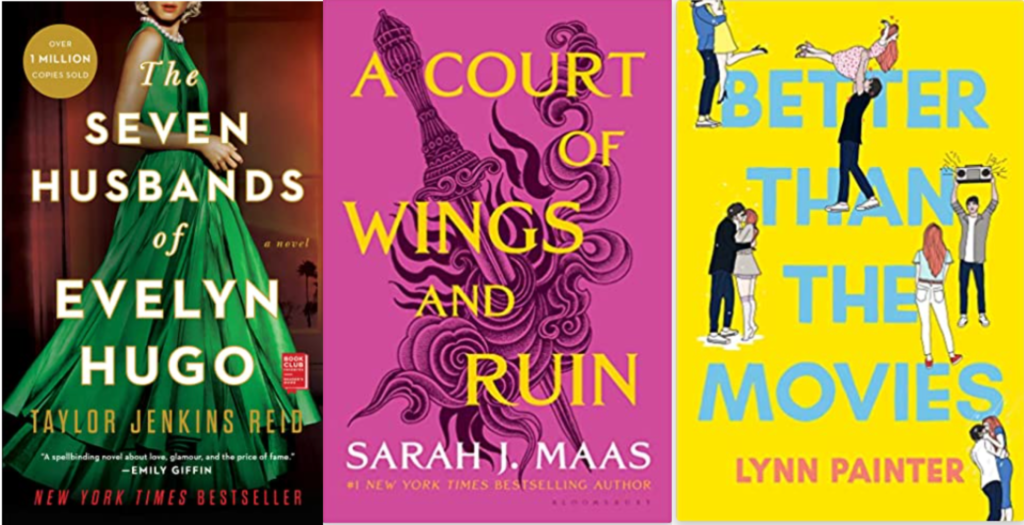 LOVED IT: The Seven Husbands of Evelyn Hugo (Taylor Jenkins Reid), A Court of Wings and Ruin (Sarah J. Maas), Better Than the Movies (Lynn Painter)
Note: That's it, I loved all three. They were all wonderfully written!
June

LOVED IT: Love at First Spite (Anna E. Collins), Something Wilder (Christina Lauren), A Court of Mist and Fury (Sarah J. Maas)
Just Okay: Beautiful (Christina Lauren), Act Like It (Lucy Parker)
May
LOVED IT: After (Anna Todd), A Court of Thorns and Roses (Sarah J. Maas),
Just Okay: The Last Thing He Told Me (Laura Dave), My Favorite Half-Night Stand (Christina Lauren), Hook, Line and Sinker (Tessa Bailey), The Bromance Book Club (Lyssa Kay Adams), After We Collided (Anna Todd), The Ex Talk (Rachel Lynn Solomon)
April
LOVED IT: Where the Crawdads Sing (Delia Owens), Beautiful Player (Christina Lauren), The Roommate (Rosie Danan)
Just Okay: One True Loves (Taylor Jenkins Reid)

March
LOVED IT: The Love Hypothesis (Ali Hazelwood), It Happened One Summer (Tessa Bailey)
Not a Fan: The Unlikely Adventures of the Shergill Sisters (Balli Kaur Jaswal)
February
LOVED IT: Would like to Meet (Rachel Winters), How to Fail at Flirting (Denise Williams)
Just Okay: This time Next Year (Sophie Cousens), Beautiful Stranger (Christina Lauren), Josh and Hazel's Guide to Not Dating (Christina Lauren)
Not a Fan: The Jetsetters (Amanda Eyre Ward)
January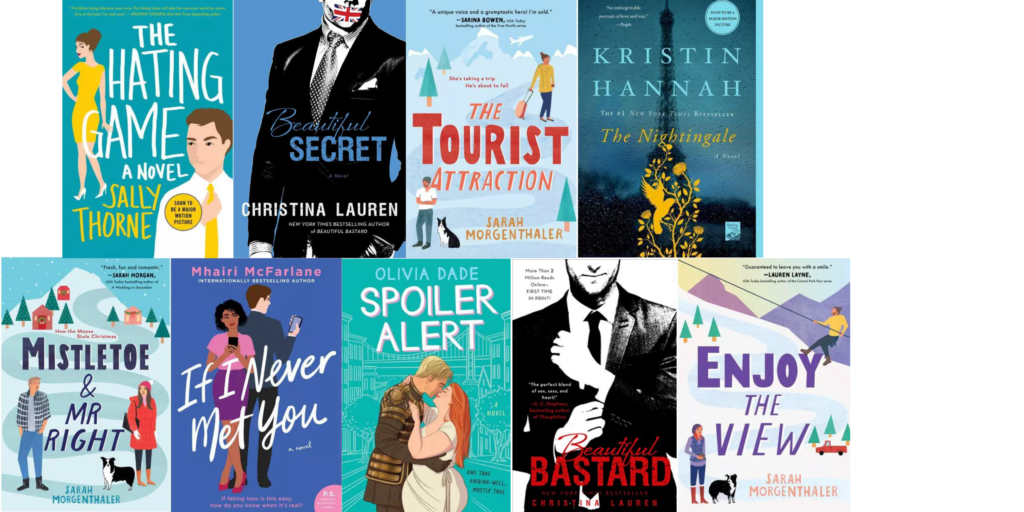 LOVED IT: The Tourist Attraction (Sarah Morgenthaler), The Hating Game (Sally Thorne), Beautiful Bastard (Christina Lauren),The Nightingale (Kristin Hannah)
Just Okay: Mistletoe and Mr. Right, Enjoy the View (Sarah Morgenthaler), Beautiful Secret (Christina Lauren), Spoil Alert (Olivia Dade), If I Never Met You (Mhairi McFarlane)
2021
December
LOVED IT: 99 Percent Mine (Sally Thorne), Second First Impressions (Sally Thorne), The Soulmate Equation (Christina Lauren)
Just Okay: The Heir Affair (Heather Cocks & Jessica Morgan), Anchored Hearts (Priscilla Oliveras)