I feel like it's only fair to start this recipe by telling you that I love croutons. Like really love them in a crouton aficionado kind of way. I don't discriminate even a little bit and have been happily eating all types of croutons from the fanciest restaurant quality to store-bought packages since I was little. So I think I'm a pretty credible source and when I tell you this recipe for homemade croutons will be some of the greatest croutons you'll ever have, I'm not exaggerating.
You've probably been in a situation where you have extra bread in your house and don't really know what to do with it before it goes bad. A few things you could do with it are:
Throw it away
Make French Toast (but that's a lot of work and it's a Tuesday so it'll be too far gone by Saturday Breakfast)
Make Croutons!
We discovered homemade croutons during a pasta making class a few years ago. It wasn't even part of the class… the teacher just casually added them to a salad as an extra. The pasta class was a gift to satisfy my never-ending desire to learn how to make pasta. While we didn't have to buy a pasta maker BEFORE the class… the amazon order for one of our own was placed before we even left the store, but that's a story for another day. Pasta aside, we also left that class with a new goal: learn how to make croutons.
Bread Type
You can make croutons with any type of bread. We've even made them out of cornbread! The only thing that may change is your cook time based on the density of your bread. 99% of the time, we make croutons out of French baguette or french bread. It's a fantastic combination of crusty on the outside and soft on the inside which lends itself to a really delicious crouton.
Spicing your Croutons
We keep if really simple, but I think you can get as creative as you want here. Go for an Italian vibe by adding oregano or Italian seasoning. Even a light dusting of parmesan cheese could be really delicious! Adding a little heat such as chili powder could be a fun way to change up a traditional Caesar salad.
Check out the Recipe for Homemade Croutons below!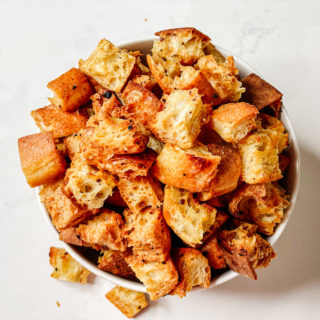 Homemade Croutons
Making your own homemade croutons is so quick and easy and the perfect way to use stale and unused bread. Once you make your own, you'll never go back!
Ingredients
1 French baguette (stale or fresh) – or any bread you have
3 tbsp Olive oil
2-3 Garlic cloves, minced – or in our case, fresh from the pre-chopped container
2 tsp Salt
3 tsp Fresh cracked pepper
Instructions
Preheat your oven to 350°F

Cut your bread into bite-sized pieces. For us, this typically means slicing the baguette and then cutting each slice into 6 even-ish pieces. If you cut them smaller, you may want to keep an eye on them while they are in the oven so they don't burn or reduce the time by 5 or so minutes.

Drizzle olive oil over top of bread.

Sprinkle on garlic, salt, and pepper and mix together until the bread cubes are evenly coated. If you're looking adventurous, feel free to add in any other spices, like Italian seasoning.

Bake for about 25-30minutes, mixing once half way through. Remove from the oven once croutons are lightly browned and let cool.  Slightly Chewy Croutons: We like our croutons a little under-cooked so they're a bit chewy. Typically we'll pull them out at the 25 minute mark.

Once cooled, place in an air-tight container. We normally store them in a ziplock bag and they'll last for 1-2 months (that's the longest we've lasted before we've eaten them all).