It's officially that time of year.. you know what I'm talking about! Blackberry season! Ok maybe not every celebrates the middle of July with a massive haul of freshly picked blackberries, but there is no better time to start. What better way to celebrate than with these amazing Healthy Blackberry Lemon Zucchini Muffins.
Every year my best friend Allison and I go on our annual berry picking trip in Northern Virginia. Sometimes we'll get luck and get there early enough in the season for blueberries and raspberries, but the real reason we go is for the magical blackberry. Picking them in the middle of summer is perfect because they're sweet, incredibly juice and so large it makes you really feel like you're snacking on a fantastic treat.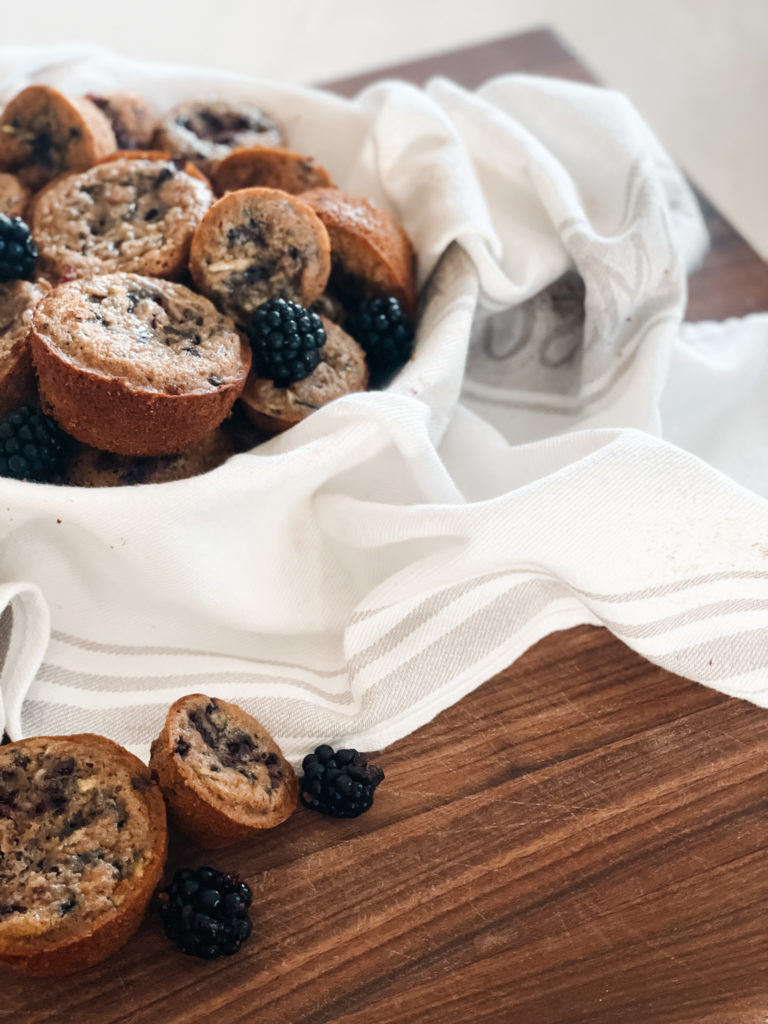 Now I should mention that there are two things that are crucial for Berry Day. The first, obviously pick an obscene number of berries. The other requirement that is an absolute MUST of Berry Day is of course get some delicious ice cream. (Because why wouldn't ice cream be a requirement for every important event?!) This year I tried a Blackberry lemon swirl ice cream that was to die for and also the inspiration for what to do with the rest of the berries when I got home.
These Healthy Blackberry Lemon Zucchini muffins are the perfect summer treat and with the large amount of zucchini, will leave you feeling like you actually put something into your body that's good for you. They're not too sweet, incredibly moist and the best part, the blackberries create almost a jam inside the middle of the muffin. Trust me when I say it will be hard to stop at just one.
Looking for substitutions? Check out the details below the recipe where I answer some of your questions.
Check out the recipe for Healthy Blackberry Lemon Zucchini Muffins below!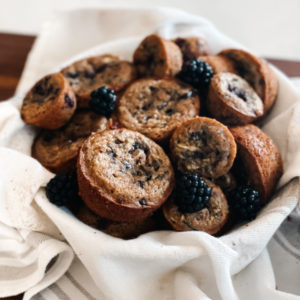 Healthy Blackberry Lemon Zucchini Muffins
These Blackberry Lemon Zucchini muffins are so incredibly flavorful without being too sweet. The extra berries create an awesome natural jammy-ness that take these muffins to a whole different level. You've got to try these muffins - the ultimate summer treat!
Ingredients
1 1/2 cups white flour
1/4 tsp kosher salt
1 tsp baking soda
6 tbsp flavorless protein powder I use collagen peptides
1 tsp cinnamon
1/4 tsp nutmeg
1 1/2 cup shredded zucchini (about one medium zucchini) let excess liquid drain prior to use
1 lemon zested
1 egg
1/3 cup unsweetened apple sauce
1/4 cup milk
2 tbsp olive oil
1/2 tsp vanilla extract
1/4 tsp almond extract
1/2 cup pure maple syrup
1 1/2-2 cups fresh blackberries
Instructions
Preheat your oven to 350 degrees F. Prep your muffin trays by lining with muffin liners and spraying with non-stick cooking spray. While muffin liners are not necessary, I do recommend them. These muffins will require a little bit of work to get out without them.

Start by shredding your zucchini and moving it to strainer to remove the excess liquid. If the zucchini still feels very wet, you can also pat dry with a wet paper towel.

While the zucchini is draining, mixed your flour, salt, baking soda, protein powder, cinnamon and nutmeg in a large bowl.

Add your egg, apple sauce, milk, olive oil, vanilla and almond extract and maple syrup to the dry ingredients, mixing well.

Add the zucchini and lemon zest to the batter and mix together.

Add and lightly mix 1 rounded cup of the blackberries to the batter.

Scoop batter into muffin trays, filling to about 3/4 of the way full. Finish by taking the remaining blackberries and adding 1-2 berries to the top of each muffin, pushing into the batter slightly.

Bake for 25-30 minutes or until toothpick inserted into the middle of the muffin comes out clean. Allow to cool for 15 minutes before removing the muffins from the tin to finish cooling. Makes 15 muffins.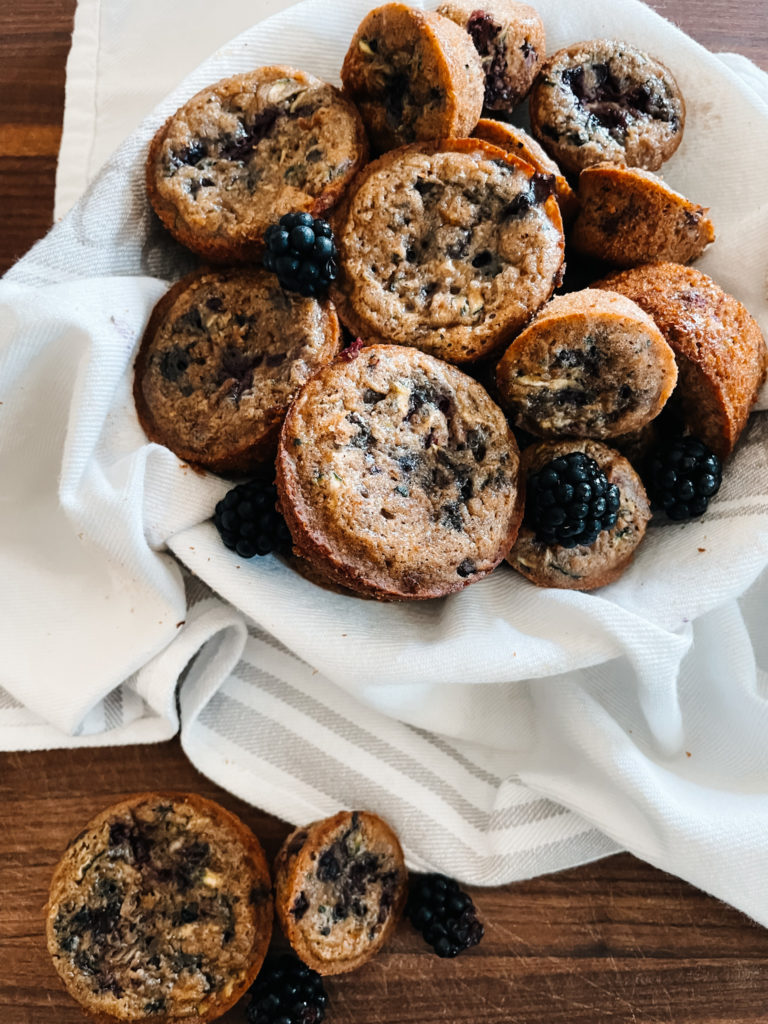 Healthy Blackberry Lemon Zucchini Muffins Substitutions
Considering a substitution? Check out some of our favorite options below:
Sweetener
I love a recipe with a natural sugar substitute, but sometimes worry that a food will come off tasting like maple syrup. Don't worry, that doesn't happen here. But if it's something that you're worried, you can easily substitute the pure maple syrup with honey.
Milk
Don't use traditional cow's milk? Not a problem! You can substitute any with any milk, but I would recommend almond, oat or cashew milk just to keep the flavor consistency the same.
Flour
There is a little flexibility here in the sense that you can replace white flour with whole wheat flour. Unfortunately, I haven't tested anygluten free versions of this recipe so using almond or gluten free flour could change how these muffins turn out.
Apple Sauce
I love using apple sauce in recipes as a substitute for oil. It's of course healthier, but I also feel like it adds another level of moisture to your baked good. If you don't have apple sauce, you can use apple butter or if you're really in a crunch, coconut oil will do.
Add ons to make your Healthy Blackberry Lemon Zucchini Muffins even better!
Want to take your muffins to the next level? Try these additional ingredients that will work fantastically:
Walnuts
Chopped pecans
Blueberries
Crumble topping
Chopped pistachios