One of my favorite things about the holidays is not just decorating, but actually creating custom decorations. It not only gives me a chance to stretch my creativity, but also save us a bunch of money to spend on more important things.. like presents! When I saw these velvet Christmas trees for $60, I knew that I could recreate then for less. They're modern, dramatic and so much fun. Plus they're really easy to do! Check out below to see how I did it.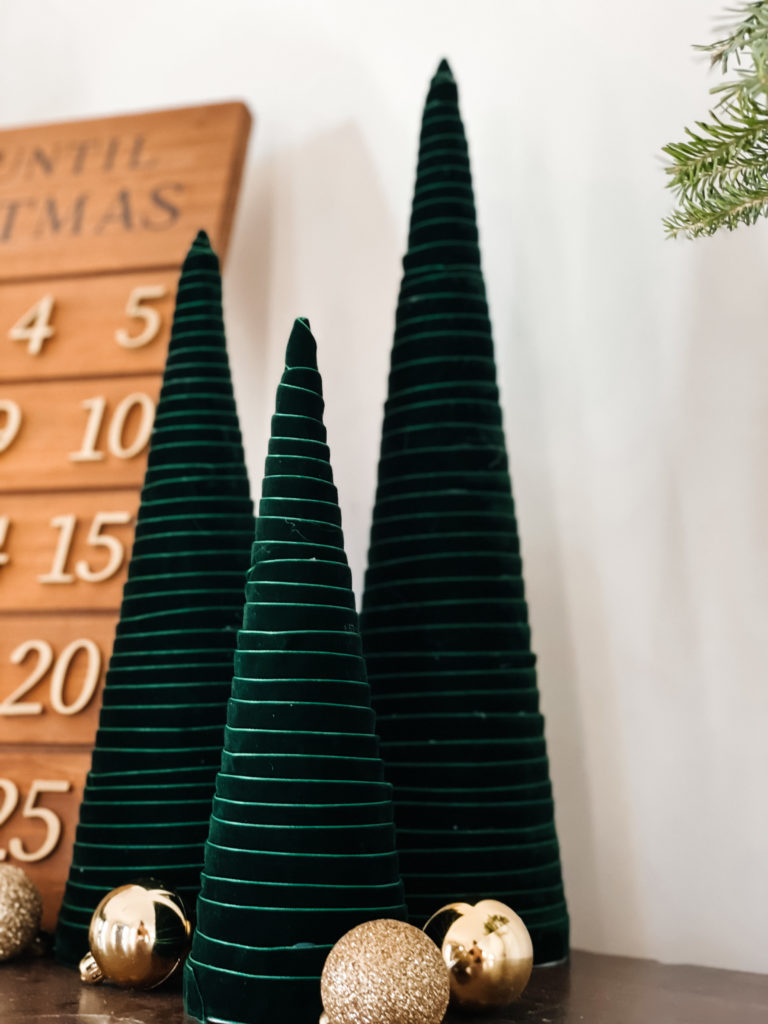 Materials Needed
First I need to say that I made the codes much more complicated than I needed to. I had already purchased foam floral cones from Michael's Craft Store when I discovered the paper mache ones I have listed from amazon. While these cones are a few dollars more expensive, they would have saved me a lot of effort.
For the velvet, I found this beautiful green ribbon and got a ton of it as I knew I was going to want to overlap the ribbon a ton as I wrapped it around the cone. I opted for a 5/8 inch thickness and 60 yards. I also figured that any extra, we could use to wrap presents this year. (Spoiler alert, we had a bunch leftover).
My convoluted method:
While the floral cones were a bit cheaper, I didn't think about the fact that they were made from styrofoam. Under normal circumstances this wouldn't be an issue, but I later learned that styrofoam and hot glue do not mix. The glue will essentially melt the foam and make it unusable. At the same time, I also wanted to add a peak to my cones as the floral tops were flat. Because of these reasons, I opted to wrap the cones in thick paper (I used scrapbooking paper) using super glue. This actually ended up being pretty challenging so just go ahead and get the cones.
How to make DIY Velvet Christmas Trees
Step 1:
The best way I found to start the peak of the tree is by cutting the ribbon into 2 small pieces first. With the first piece, I created the tip. As you can see by the photo below, the angles are pretty aggressive making it impossible to use one constant piece. Take your hot glue and secure the piece completely. With the second piece of ribbon begin to set your angle. For me, this was a bit of a transition piece and while if doesn't necessarily seem like it, was definitely needed.
Step 2: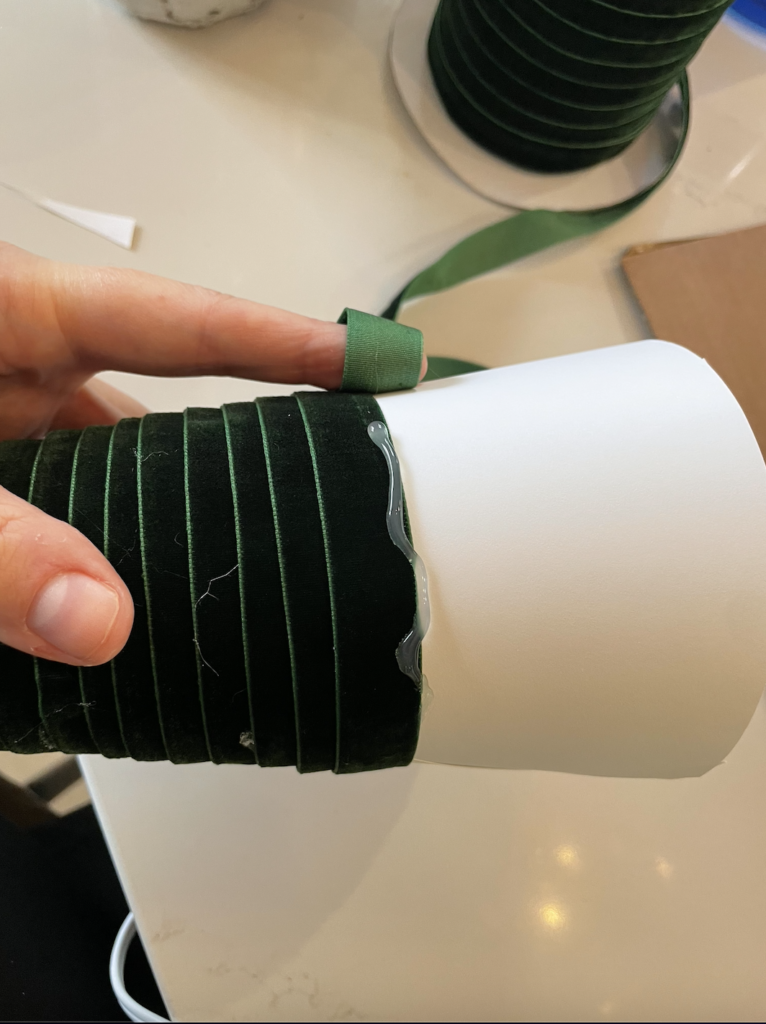 Next I was able to take the ribbon and begin wrapping the rest of the cone to create the velvet Christmas trees. This process is very simple, but even once you get into the rhythm it takes a while. I learned the hard way to only apply a little bit of hot glue at a time, running it along the base of the already attached row. It will dry quickly so I typically added about an inch of glue at a time.
The ribbon covered about half of the row below it. This was a personal design choice, but I think it turned out really beautiful.
Step 3:
Make sure to secure the bottom of your cone by applying glue around the whole base before adding the final row of ribbon. Cut the ribbon on an angle for a nice finished look and secure well with glue.
Notes:
Be careful with where you add the glue. Once it's on the ribbon, it's almost impossible to get it off unnoticed. I had a few places where the glue seeped up over the top of the ribbon. While I was able to wipe it a little bit, you can definitely still see it.
How stunning do these look?! I am so happy with how these turned out. They are dead ringers for those $60 trees that I found.
The best part is you can recreate these trees in any color or ribbon type. (I was VERY close to doing a mix of three different white textures).
These trees are going on our front entry table for everyone to see. Where will you put your velvet Christmas Trees?
Ps. For all of those asking, you can get the holiday calendar here!