I will be the first to admit that I do not take good enough advantage of Amazon Prime Day. Just because it's on sale, doesn't mean I need it. But when it comes to buying more of things I already love? Well that's a different story! I've been finding beautiful dresses and jumpsuits on Amazon for this last few months to gear up for summer and personally own all of these outfits. They are my go-to options for summer and hopefully they will be yours too! These are some of my favorite outfits from Amazon (that also just happen to be on sale for Prime Day).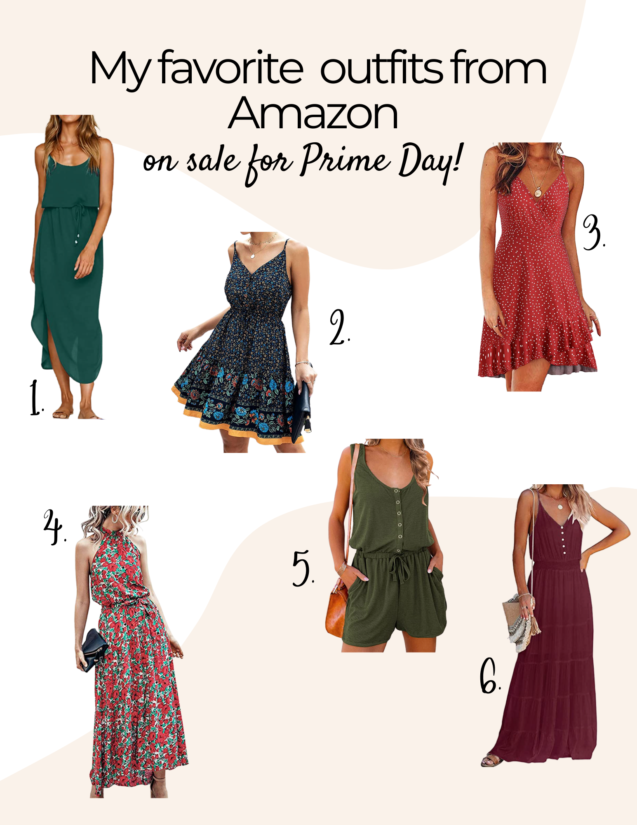 The most important things that I consider when buying close on Amazon:
The Fit. Obviously these outfits have to look good! All of these favorites are comfortable and extremely flattering. Many also come with belts or ties at the waist to help you accentuate your natural curves.
Fabric. I'm a sucker for a soft fabric! With the except of number 1 (which is a little more stiff) All of these outfits are so incredibly soft and cozy, you'll have no problem staying in them all day long.
Pattern. These days I am all about texture and patterns. I love that there are so many options for different designs and a colors for each of these. Does this mean I can buy more than one and no one will realize it's the same dress? Hell Yes. Is that what I'm doing? ABSOLUTELY.
Cost. Let's be honest with ourselves.. this is one of the reasons we're all here right? These outfits are already incredibly affordable, but now that they're on sale for Prime Day, they're a down right steal! Plus with their amazing return policy, what's the harm in just trying them?
Length. Okay I'm definitely not the kind of girl that needs everything below the knees, but these days, a mini skirt just doesn't hit like it used to. I'm loving the longer minis, midis and maxi options and can guarantee there will be no flashing issues with these outfit options!
Look below to get the details on all of these gorgeous outfits. I'll give you all the deets, good and bad.
My Favorite Outfits From Amazon
1. Summer Beach Casual Midi Dress – This is a funny one to start off with, because if I had to pick one to take off this list, it would be this one (but hear me out!) The color of this dress is undeniably gorgeous and it is just as pretty in person. The fit is flattering and it is light weight making it a perfect summer dress. My ONLY caveat is that the fabric of this dress is a little bit stiffer. Also when I'm feeling a little bloated, I typically don't choose this dress. It's just not the one I feel most confident in. But on the right day, this dress is fire.
2. Floral V Neck Ruffle Sundress – I can not talk enough about how much I love this dress! The pattern is stunning and unexpected, the cut is incredibly flattering and it is overall extremely comfortable. I have gotten so many compliments when I wear this dress and will definitely be getting it in another color combo.
3. Summer Wrap Ruffle Dress – This dress is the epitome of soft. I bought this for a trip to Mexico earlier this Spring and I wish I had gotten a few more of them! As any girl knows, a wrap dress is always a flattering option, but this dress takes it to a whole new level. The ruffle detail at the bottom is so pretty and helps to accentuate your legs. It comes in a ton of different color and pattern options making it great for any occasion.
4. Halter Neck Backless Maxi – I bought this dress for wedding season and ended up loving it so much that I wore it to two different weddings back to back. Now I know what you're thinking, that red floral is SO DARING. I know because I thought the same thing, but here's the other thing… it is outrageously flattering and 100 percent not too much. This dress comes with a belt, but I really don't think you need it. It also comes in a short option too which I didn't include in the list as I returned it, but you can find it here: Halter Neck Sun Dress
5. Casual Scoop Neck Jumpsuit – This is my most recent addition to my Amazon collection and it did not disappoint. It was recommended by a friend and while I was skeptical about whether I could pull off a short jumpsuit, the tie at the waist makes it super flattering. It also has a really lovely ribbed detail that I love. I've already gone ahead and ordered another one of these to finish out the summer with!
6. Sleeveless High Waisted Maxi – Wineries anyone? Does this dress not just should, take me to drink on a patio? This maxi dress is incredibly pretty and comes in a ton of different colors. I also like that the lining doesn't go all the way to the ground which gives it a summery feel. I will say if your very tall (5'9 or taller) be mindful that it probably won't reach the ground. At 5'8 I can only wear this dress with flats to get the true maxi look. Personally I don't mind when it's a little short and think this dress lends itself to a more casual look that makes it work.
Remember: Prime Day lasts from July 12-13 so make sure you get your stuff while the deals are still available!
Don't mind me while I spend the next few hours roaming Amazon making sure I didn't miss any home decor deals that we absolutely need! Then its back to working on our primary bathroom. (By the way, anyone that knows what a firetv is, let us know! Our tv is fading fast!)