We love a signature cocktail! In fact, I don't think I've thrown an event in years without one. When we decided to host Friendsgiving this year, we knew we needed to have a good one. We needed a cocktail that really hit all of the notes of the season: warm, inviting with fall flavors, but still a little fancy. Enter the perfect fall cocktail: Sparkling Bourbon Cider.
So how do we make a cocktail that feels like fall? With apple cider of course! It's sweet, natural and goes with so many different types of alcohol. As I started to craft this cocktail, it just kept getting better and better. To keep it light, we decided to top off the drink with prosecco – because what isn't better with a little bubbly?
The best thing about this cocktail is it's great for a crowd. Simply mix the all of the ingredients together and serve in a pitcher besides a bottle of chilled prosecco. Guests can add as much apple cider mix to the ratio as they want and the best part is, you don't have to be on refill duty all night! This drink is strong, delicious and like fall in a glass. How can it be bad you ask? It can't.
Serve for Friendsgiving, Thanksgiving or simply just a good fall party.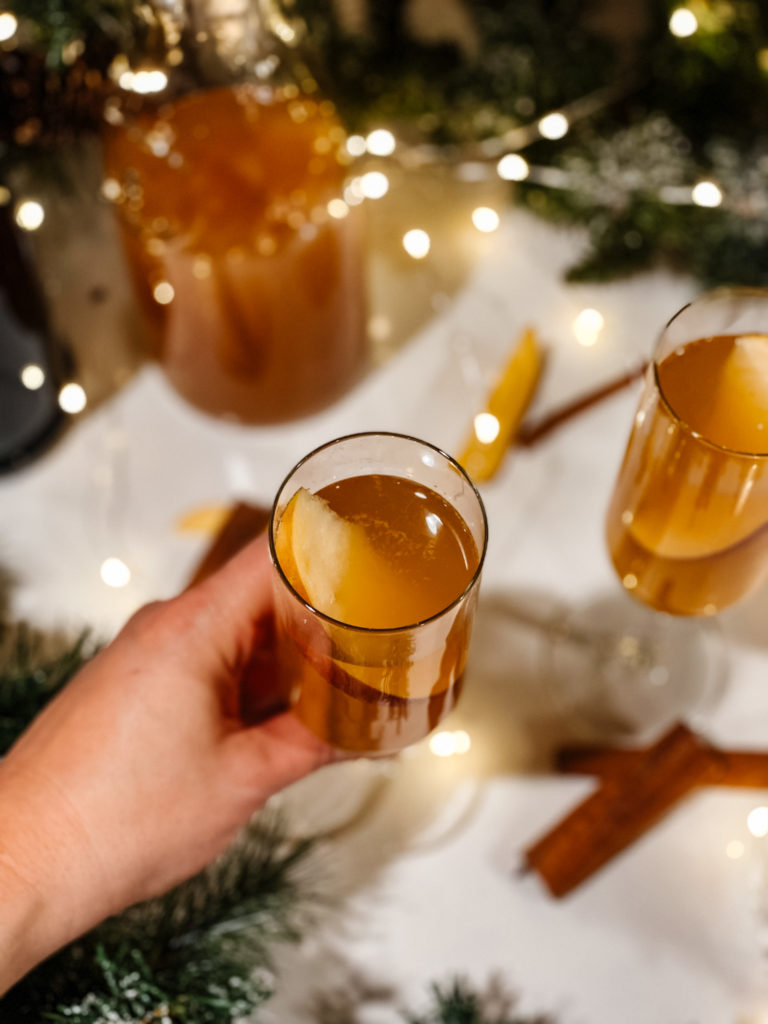 Sparkling Wine
When picking your prosecco or sparkling wine, I strongly suggest going with something sweet over a dry option. Even with the apple cider, the sweetness of the bubbly really compliments the cocktail. Our favorite is La Marca Prosecco. We drink it all the time, its got fantastic flavor and the best part, it's almost always on sale.
Bourbon
This of course is optional and a sparkling cider would be great on its own. But the bourbon adds a great warmth to drink.If you want a less strong cocktail, just cut the bourbon quantity in half. Our favorite bourbon is Bulleit and it's a delicious option for this drink.
Get the recipe for Sparkling Bourbon Cider below!
Sparkling Bourbon Cider
This cocktail is just the right amount sweet, fizzy, a touch warm and perfect for crowd. We love serving it at Friendsgiving and Thanksgiving in a large pitcher for guests to serve themselves.
Ingredients
6 Cups apple cider
3 Cups Bourbon
1/3 Cup Freshly Squeezed Lemon Juice
1 Tbsp Vanilla extract
2 Bottles Prosecco/ Champagne
Instructions
Mix together apple cider, bourbon, lemon juice and vanilla in a large pitcher.

Serve with a bottle of chilled prosecco on the side for guests to serve themselves. The ratio should be roughly 1 part apple cider to 1 part prosecco