Confession: This project started because I really wanted a dough bowl. What's a dough bowl? They're wooden bowls that throughout history were used to knead bread dough. Now, in 2021 where we have grocery stores and bread makers, they're just a pretty place to keep things on your coffee table. Not only are they cute and functional, but it would be the perfect place to keep my newly crafted Christmas coffee table decor.
I searched for a dough bowl for months! Most of them were over $50 and for a piece of wood, I just couldn't validate spending that much money. I finally found some good options at Hobby Lobby. The good news, it was only going to cost me $30. The bad news, the wood was raw and desperately needed to be stained.
Step 1:Stain dough bowl and make it pretty. Step 2: Make Christmas Coffee Table Decor that looks like a million bucks.
While I was at Hobby Lobby I also picked up some votives and candles. As you can see the raw wood of the dough bowl was is fine, but to me it just didn't seem finished. Here are the steps I took to stain the bowl:
Sand it down: I have no idea what kind of wood his dough bowl was made out of, but it is incredibly porous. It also felt kind of rough like it was never properly finished. I ended up sanding down the bowl with an 80 grit and then 120 grit to give it a much smoother finish.
Condition the wood: Like any staining project, the first thing you want to do is cover your wood in pre-stain conditioner to help make sure your stain will go on evenly. After letting the pre-stain sit for 30 minutes, you can move ahead and stain.
Test your Stain: One really important thing I learned during the project is the importance of testing the stain on the wood. As I mentioned this wood is insanely porous. This meant that any color I put on the wood was pretty much there to stay. I did a test swatch on the bottom of the bowl and HATED IT. I ended up completely changing my stain colors and am so grateful I only had to sand down and re-condition that small swatch rather than the whole bowl.
Apply your Stain: For this project, I premixed a combination of early american and weathered oak stain. The sides absorbed the stain more than the flat parts of the bowl so I continued to apply and wipe away the stain with strips of old t-shirts until I got the perfect color.
Let Dry: Stain needs time in a warm(ish) room. Typically you want the room to be at least 50 degrees and the project to dry for about a day to be completely dry.
Add a Protective Coat (Optional): If this is going to be in a high traffic area or outside, you can choose to add a protective top coat such as a matte enamel or polyurethane to your project. In my case, I wasn't very concerned about this and skipped this step.
Once the bowl was done, it was onto the fun part, adding some "snow" to our pinecones and putting it all together.
How to make this easy Christmas coffee table decor
Now onto the fun part! I grabbed my pine cones, an old toothbrush and some paint to begin this project.
To give the pinecones their freshly snowed look, I took a toothbrush and dipped it into white paint. (the paint type doesn't really matter.. I used extra wall paint we had laying around)
After dipping your brush, I recommend wiping off some of the excess paint onto your newspaper otherwise you'll end up with completely white, painted pinecones. Wait until the paint gives a scratchy look before applying on the pinecones.
Lightly brush your pinecones, making sure to push the bristles into the middle, top and bottom of the pinecone. You can make the pinecones as snowy as you like by applying more or less paint.
While the pinecones dry, I took leftover garland and cut it into large pieces to fill in around my bowl.
Once the pinecones had time to dry, I assembled the christmas coffee table decor by adding the leftover faux evergreen, the new votive candles and pinecones to my dough bowl. I placed the candles first followed by the pinecones and then filled in the blank spaces with the evergreen to give a really sweet wintery vibe.
Here is the final look!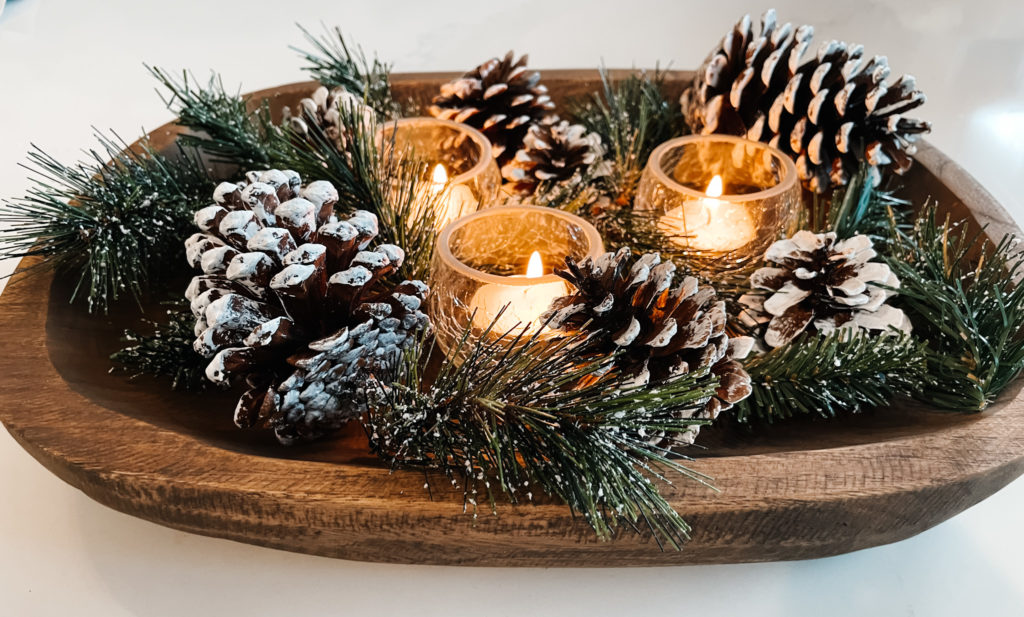 It's moody, cozy and so easy to put together! Plus now I finally have my dough bowl for all seasons. I feel like this look could also be great along a longer centerpiece on a dining room table with pillar candles added into the mix too! What decor are you adding to your coffee table?