The holiday season is fast approaching and nothings worse than stressing over what gift for get for your family and friends. Don't worry, we've got you covered! We've compiled a list of our favorite things that we're completely obsessed with. We're also including a few gifts that people have begged for and even a few things that are on our own Christmas list year. We're breaking the list into four sections: For the Kitchen, For the Home, For the Workshop (aka our favorite tools), For the Entertainer.
Check out our debut Holiday Gift Guide below!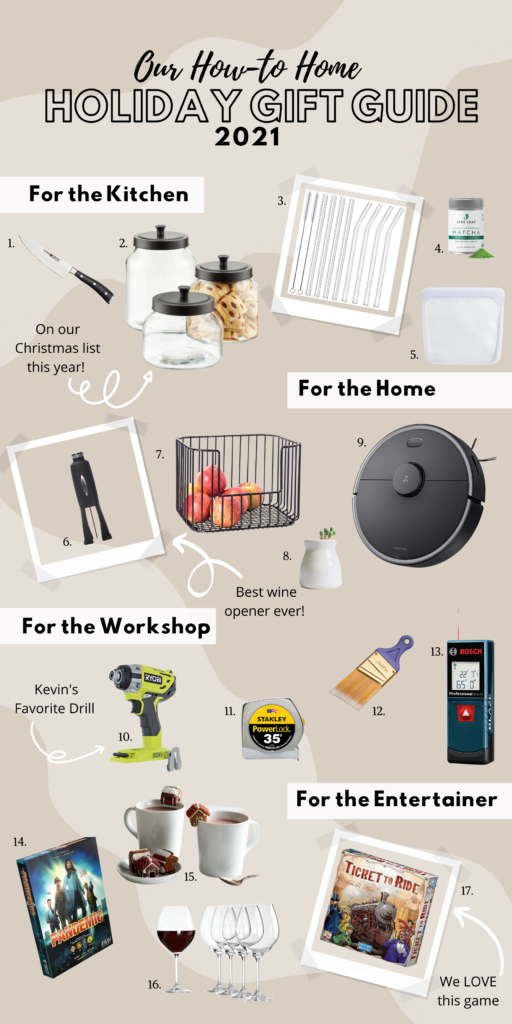 Holiday Gift Guide
For the Kitchen
1. Wüsthof 6″ Cook's Knife – hands down our favorite knives- we use them almost every single day. You only need two or three to replace most knives in your knife block. These knives will last a lifetime and are incredibly sharp.
2. Glass Canisters – we've had our eyes on these canisters for years and they're finally back in stock! They add a beautiful finished look to your pantry and have a suction seal to make them great for storing grains, oats or flours.
3. Glass Straws – whether its iced coffee or a smoothie, these glass straws get used regularly in our home. They're thick enough that you don't worry that it glass and feel much better on your teeth than a metal straw. They're also see through so you can feel confident that the straws have been properly cleaned.
4. Matcha Green Tea– if you like matcha, this ceremonial grade matcha is my favorite! It's smooth with great flavor and less expensive than other similar brands.
5. Stasher Sandwich Bags– we're learning quickly that you can't have enough of these bags! They're better for the environment than regular plastic and the most durable reusable bag we've found.
For the Home
6. Cork Pops Wine Bottle Opener- we were gifted this a few years ago and are OBSESSED. It's compact and definitely the easiest way to open a wine bottle. The wine opener comes with CO2 cartridges to create presser and literally pop the cork out of the bottle. It's a great party trick to pull out at events!
7. Wire Stacking Bins– these bins are functional and still pretty enough to sit on your counter. We use them to store our onions and potatoes.
8. Match Striker– if you love a candle, you'll swoon over this beautiful match striker. It looks like art itself and will look darling on your coffee table or side table.
9. S4 Max Robot Vacuum – If you've ever considered a robot vacuum, this is a great time to get it! The S4 Max is one of the highest rated options on the market and is a great tool for a quick clean up in between larger cleaning days. The S4 Max also comes with an app that allows you to start the vacuum while you are out or track its progress.
For the Workshop
10. Ryobi Impact Driver – Kevin cannot rave more about this drill. It's by far his favorite type of drill and makes drilling into studs or any dense material a thousand times easier. It is also compact enough to fit in tight spaces which is very handy when you're working in between studs.
11. Stanley Tape Measure – not all measuring tapes are equal and a classic Stanley tape measure is a great stocking stuffer for any new DIYer.
12. Wooster Angled Paint Brush – hands down our favorite brushes. They're easy to hold, great for angles and last forever. We use these brushes for everything from walls to furniture.
13. BOSCH Lazer Distance Measure – struggle measuring across a room? A lazer level may be just what you need. Its compact and surprisingly accurate! This is very useful if you're planning to tile a backsplash or adding an accent wall.
For the Entertainer
14. Pandemic – is it too soon? We love this game because unlike most where you're fighting your friends to win, with Pandemic players work as a team to fight the game and save the world. It's full of suspense and will leave you guessing until the last minute.
15. Cookie House Mug Buddies – want to impress guests that stop by for hot cocoa on a cold day? These little cookies are beyond adorable and will make even grandpa feel like a kid again.
16. Lenox Wine Glasses – these beautiful wine glasses are shockingly inexpensive and hold a great pour. We've loved them for years and registered for a ton of them at our wedding so we'd have them for years to come.
17. Ticket to Ride – it's safe to say this was our game of 2021. Everyone we introduce it to, LOVES it and more than one family has gone out to get their own copy! It's easy for players of all ages and great for a quick afternoon of fun.
We hope you love these ideas as much as we do!