Have you heard of the DIY Clay Vase hack? I've been wanting to do it for a LONG time and when I found this hideous vase at the thrift store a few weeks back, I knew I had found my muse. The way to start out this project is simple: Go to your local thrift store and get digging. Look through the vases, urns, and bowls for any shape that catches your eye. The material is pretty versatile so don't worry if it is ceramic, glass, plastic or plaster.
The key with this DIY is the shape. While these blue flowers against the sponge painted backdrop were awful, the shape was exactly what I'd hoped for. The urn has a classic shape that looks just like some of the more expense options available for sale online. These vases can cost from anywhere from $40-$150. Our little vase – a mere $11.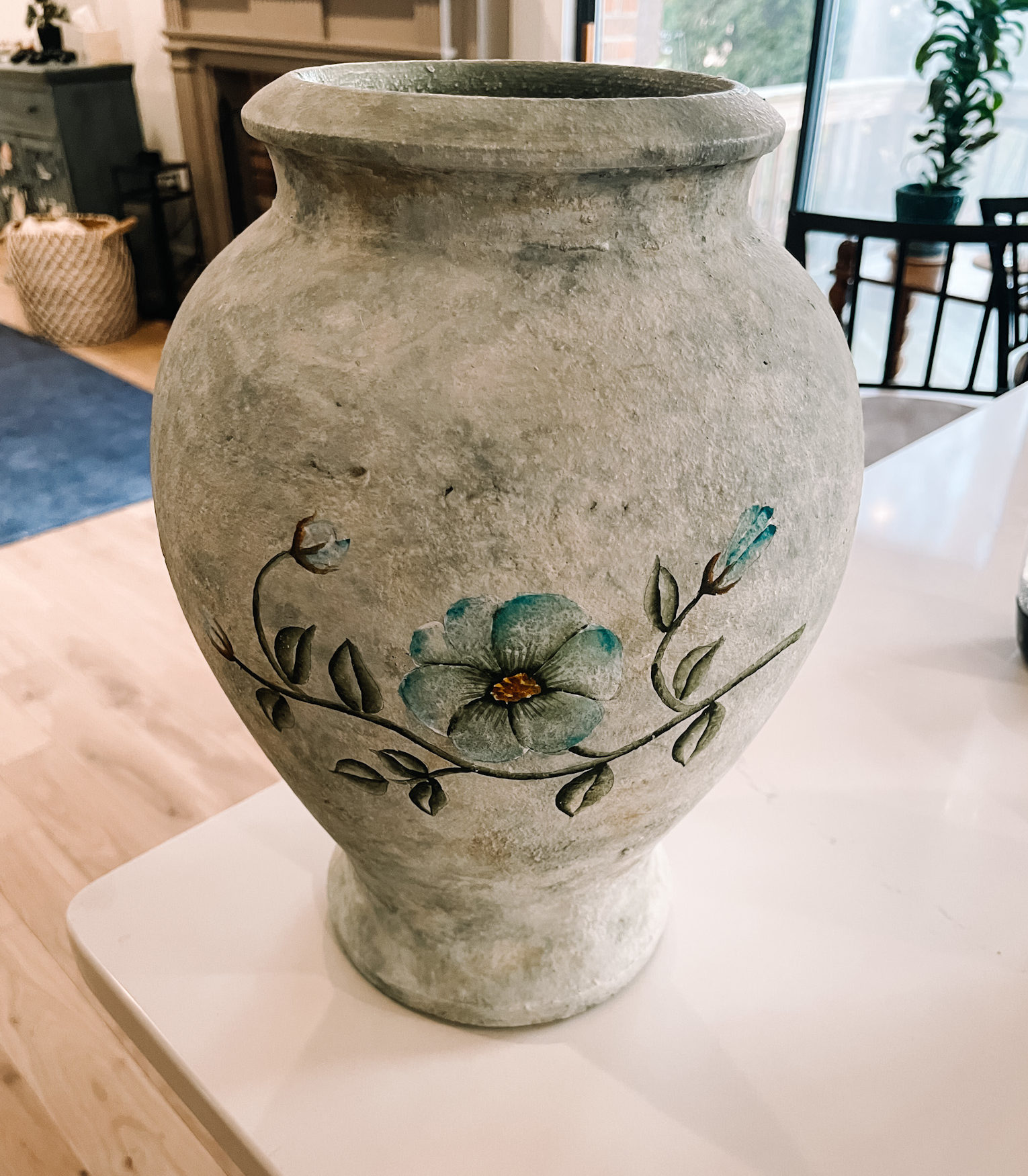 The plan was simply determine the color I want the vase to be, add baking soda and then paint until I'm satisfied.
I accidentally ended up testing out two different types of paint for this project mainly because I ran out of my first choice… but we'll get into that in a minute.
DIY Clay Vase
This vase is so simple to make and requires almost no tools! Here's how you do it.
For this project you'll need:
Paint (I used Acrylic and regular wall paint in egg shell)
Baking soda
Paint brush
Vase of your choice (this could even be glass or plastic if you wanted)
Since it's likely an old vase that you're working with, I'd recommend wiping it down to get all the dirt and dust off. Painting over dust can create unevenness in your paint and may stop it from sticking.
From what I've experienced, the only real difference in the paint types is how wet the paint is which will directly correlate to how much baking soda you'll need. I started with my acrylic paint, mixing white with brown and mustard to get a lovely cream color.
Begin to mix in your baking soda. I wanted mine to look super textured like stone so I ended up opting for a 50/50 paint to baking soda ratio. Something else I noticed is the longer you let the mixture sit, the thicker it will be. For me it was great, but if you're looking for a smoother consistency, you may want to hold off adding more until the paint has had time to rest.
Unfortunately, after the first layer I had run out of white acrylic paint and had to scavenge around my house looking for a new option. Cue white wall paint. Now the white wall paint was much thinner and required more color as as well as more baking soda to get it where I wanted it. In the end, both paint options are totally usable.
This vase took 3 coats of paint. The last was really just to add additional texture and smooth out brush strokes.
For certain types of vases such as plastic or glass, I would also use a clear sealer as a top coat to make sure the paint doesn't chip. In my case, my vase was incredibly porous so I'm not worried about the paint coming off.
Finally once the DIY clay vase was dry, I filled it with evergreen branches to make it seasonal for the holidays and now it welcomes guest on our front table. I can easily change out the evergreen in the spring for beautiful florals and make this lovely season decor.
What a difference! Can you even believe that this was the same vase? This $11 thrift find looks like spent so much more on it. I know it took my a while to finally move forward with this project, but now I'm wondering why it took me so long to get started! I'm so happy with the way it turned out and can't wait to try this again on more vases in the future!