The day finally came. The start of the project that equally excites and completely terrifies us. We're going to gut and demo the Master bathroom OURSELVES. But to call this a master bathroom seems like a reach because it's more like powder room that's stuffed a shower into the corner. We're so excited to blow out the wall and make use of the "vanity" area and is really just serving as a towel holder right now. Do we know what we're doing? Absolutely not. Will we figure it out? I really hope so.
I should start by mentioning that we had previously demo'd part of the bathroom when we first moved into the house. Remember how our washer/dryer were in the kitchen? Our choices were to move them down to the basement or find space upstairs. Personally I really don't understand the concept of a basement laundry room when everyone lives on a completely different floor. In order to make the a stackable washer/dryer unit fit upstairs, we demo'd the Master Bathroom shower and built an alcove in our hall closet. This room is now the laundry room… or really closet. As a bonus, this has created a completely rectangular room for our new bathroom. All we need to do now is remove the wall between what's left of the bathroom and the vanity.
Breaking Down Walls
The first thing to go was the vanity piece and drywalls. I figured getting the bathroom floor and sink vanity out would go much easier without this big dividing wall so that's what I did. The drywall is by far the messiest part of the project and while I tried to pull it down in big sheets, these builders were nail gun happy so they make it almost impossible to pull anything out easily. Using a sledge hammer, I hit the wall at a perpendicular angle to create holes in the drywall and then using my hands, pulled up big chunks at a time.
Once the drywall was off, things moved really quick.
When a wall is built, studs are used to framed the ceiling and floor with 2×4's placed roughly every 24 inches (in older houses) in between for non-load bearing walls. In newer houses they could be as close as every 16 inches. This makes the wall very sturdy and it also makes it difficult to demo without the right technique. The easiest and fast way to demo a stud wall is with one of my favorite tools, a reciprocating saw. Cut each stud on a downward diagonal which will allow you to slide the top and bottom piece away from each other. The best way to visualize this is in the video above. Using a saw makes this process to so quick because once the pieces are separated, you can pry them off by simply pulling them.
Once the walls were removed, I was able to start pulling up the floor. As this was two separate rooms up until a few minutes ago, I had carpet and tile to deal with. I started with the tile since I knew it was going to be a challenge.
Tile is made up of 3 different layers above the subfloor: cement board, mortar, and then tile. When you demo tile, you need to pull up all three until all that you are left with is the subfloor. Typically to do this, you would cut down the tile into moveable pieces and then use a crowbar to pry the whole thing up in one attempt.
Whoever installed this floor really wanted it to stay there forever. There were easily 400 nails in this tiny piece of flooring. These are the things I tried that didn't work:
A shovel to scrape the tiles off fist to make it less heavy
A crow bar to pull up the plywood
Using a hammer and chiseling the pieces one at a time.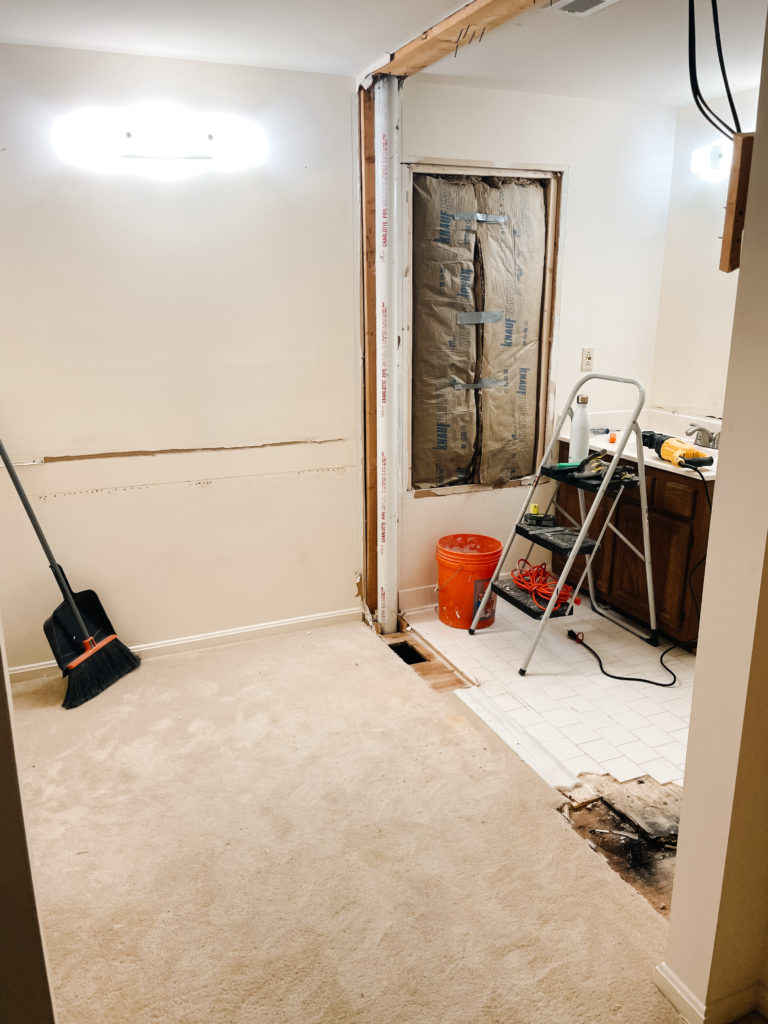 I finally ended up using a circular saw to cut through the tile and plywood (definitely not what the blade was designed for), dividing it into smaller pieces and then using a large crowbar to pull it up. It was still a ton of work and I was a sweaty mess which explains the shirt change in the video.
If you've been here for a while carpet was super easy to do. I saved it until I really needed a win and after the tile… I REALLY needed a win.
In the next posts I'll break down what we did next – aka removing the toilet and sink. This process was not as difficult as I thought it was going to be and don't worry, I break it down for you so you're not scared either.
How to demo a bathroom: Next Steps