Deciding on our Master Bath inspiration has been more of a challenge than I expected. With trends these days leaning toward dark neutrals, I basically wanted the opposite. Bright, tranquil, but somehow still warm. We have so little natural light in our home, I want this bathroom to be a spa-like oasis that makes us want to never leave.
This Master Bath Mood Board is filled with calming tones smooth lines and cozy textures. While this is just a general plan and not the final by any means, I'm really excited by the look that's taking shape.
Check out our Master Bath Mood Board below: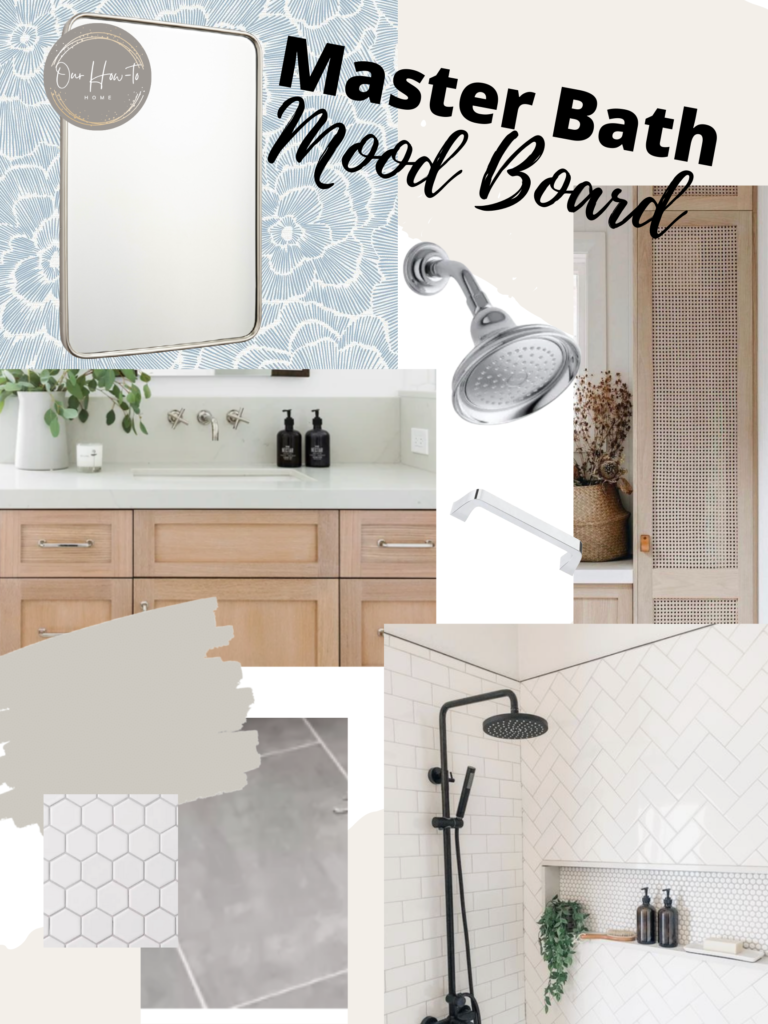 The Shower
In the shower, we are sticking with a classic white tile and adding interest three different patterns on the walls: classic subway, herringbone and penny tile for the shower niches. It was really important for me to pick a tile for the floor that wasn't going to create a slip and slide effect across the shower. I found a hexagon porcelain tile that will help bring cohesiveness between the shower and the rest of the bathroom floor.
As much as I love the look of marble (I kid you not, I accidentally picked out marble tiles at least a dozen times), neither of us love the maintenance of sealing it every 6 months. For that reason alone, we have opted to use only ceramic and porcelain in most of the bathroom with the exception of the vanity top which will be quartz.
Bathroom Floor
The current plan for the floor is to use giant ceramic slip proof tiles that mimic the look of slate. These tiles will bring a natural element to the room and create a welcoming warm energy.
The Walls
For the walls, we'll be using a light gray/beige that's light enough to feel like a white, but dark enough to know that it's not. The vanity wall will get the rooms pop of color with some fun light blue wall paper behind the mirrors. I've never done anything with wallpaper before and I have a feeling that there is going to be a lot to learn before I get to that stage of the project!
Cabinets
The cabinetry will be light wood with a white quartz counter top. These pieces will be purchased separately for a more custom look. For the cabinets, I have ordered off-the-shelf unfinished shaker vanity cabinets that we'll make special in our own way. To avoid water spots we are going to stick with chrome fixtures and hardware across the entire space.
As you can see there are a bunch of things still missing such as lighting options, rugs, and a layout of the room. All of that will hopefully be coming soon as I continue to make progress on the room.
We can't wait to see how this all comes together and this master bath mood board is a great place to start, but honestly I'm terrified to do so many things for the first time and am REALLY going to have to learn some new skills quick!
Wish us luck and let us know what you think of the plan for our master bathroom in the comments below!