This cranberry margarita is a twist on a friend's infamous margarita recipe that's made for some of our best memories and some nights we don't fully remember. The best thing about this cocktail is unlike a lot of those store bought mixes, the margarita is not super sugary and actually tastes refreshing. Add a little cranberry juice to make this a cranberry margarita and you have an absolutely winning combination.
Maker beware, they are so so good, but these margaritas are also POTENT, as in: I made these for a friend's bachelorette party and she blacked out before dinner was over. (Whoops!) But also, these will be some of the best margs you've ever had. No matter what, with this recipe for Cranberry Margaritas, you're in for a night you won't forget… unless you have too many and then you just might!
The real recipe for this is 1 part lime juice, 1 part triple sec, 1 part cranberry juice and 1.5 parts tequila, but we've broken it down in the recipe for easy measurements.
How many limes do I need for margaritas?
As a general rule, we plan for 1 lime per drink not including garnishes. I would get a few just in case you have a few limes that aren't very juicy. Fresh limes are 100% better than bottled so if you want to make your job easier, get a citrus squeezer. They're inexpensive and a huge lifesaver.
Tequila
We don't really discriminate against tequila, but I will say for this drink you're going to want white over gold tequila. It just has a fresher flavor that pairs really nicely with the other ingredients. Typically, we get 1800 so that's a good place to start.
Triple Sec
There's no need to get fancy here. I mean you CAN if you want to and get an orange liquor such as Cointreau, but usually we just get the classic, inexpensive bottle shelf triple sec and it's perfect.
Make Ahead
Fresh limes take a long time to squeeze and you don't want to be doing it all night. When serving for parties, we squeeze all the limes at once and make a big pitcher of cranberry margaritas that people can serve themselves. Just serve next to a bucket of ice to keep the party going for hours.
Check out the recipe for Cranberry Margaritas below!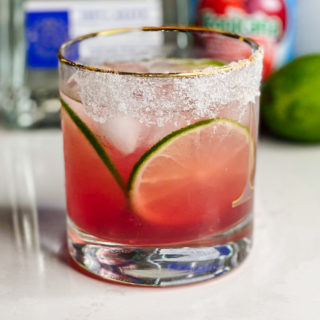 The Best Recipe for Cranberry Margaritas
This Cranberry Margarita is the perfect cocktail whether you're celebrating Taco Tuesday or Christmas in July. Fair warning, this drink is a doozy! Drink slow to avoid 1 tequila, 2tequila, 3 tequila, Floor!
Ingredients
2 oz Fresh Lime Juice
2 oz Triple Sec
2 oz Cranberry Cocktail Juice
3 oz Tequila
Salt and/or Sugar for Garnish
Instructions
Combine lime juice, cranberry cocktail, triplesec and tequila in a cocktail shaker over ice.

Shake until combined.

Run lime around half of the glass and dip into salt for garnish

Pour the cranberry margarita into the glass and get ready for a good night. Garnish additionally with fresh lime or cranberries