There's just something about a Pina Colada that really seems like the perfect summer cocktail. It's fresh, not too sweet and is so delicious you forget theres even rum in it in the first place. To me, they are the perfect blended drink for any beach trip. When you combine that with the bold red of a holiday fruit like raspberries, it takes turns this beach cocktail into the ultimate Christmas in July treat!
What makes a Pina Colada superior to the others? It's all about the fresh ingredients. Go to your local pineapple tree and pick the ripest fruit you can find….
Sorry I can't even pretend to keep this going. Ain't nobody get time for that! The name of the game for this recipe is FROZEN fruit. A bag of pineapple from the freezer section has been frozen at the peak of ripeness and has all the nutrients as the fresh version. Using fresh fruit rather than a "from the jar" cocktail recipe is such a colossal difference you'll never go back.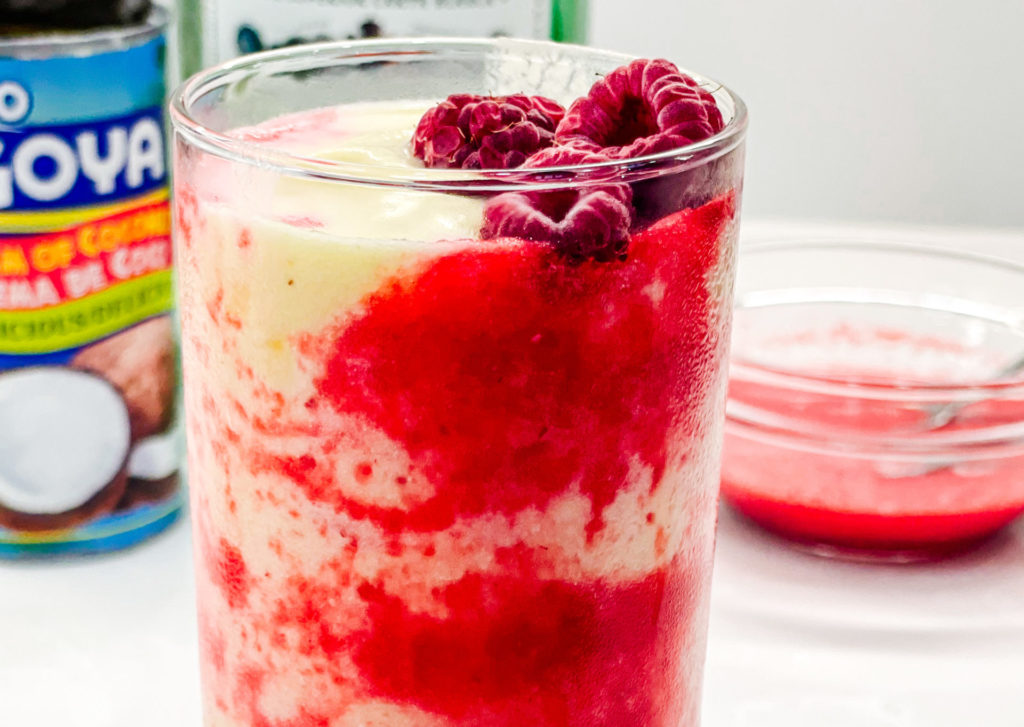 Cream of Coconut vs. Coconut Milk
While you'd think they would be interchangeable, cream of coconut and coconut milk are very different. A simple way to break it down is based on fat content. A can of cream of coconut is very thick, has a creamy consistency and contains a high percentage of actual coconut relative to water. Coconut Milk on the other hand, much closer mimics the consistency of water. Along with the creaminess, the cream of coconut will also give a much stronger coconut flavor, both of which is paramount for a great pina colada.
Raspberries or Other Fruit
I chose raspberries for this cocktail because beyond raspberries being a great holiday addition, they also bring a delicious tartness to the pina colada that compliments it perfectly.
Don't like raspberries? That's totally fine! This recipe can be substituted with any frozen berry of your choice. Strawberries or Blackberries would also be amazing options.
Find the best raspberry pina colada recipe below!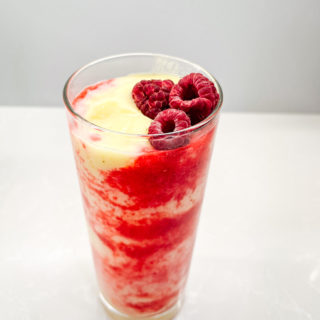 Raspberry Pina Colada
The tartness of the raspberry really takes this Pina Colada to the next level. It's perfect for Christmas in July or any summer day. After you've tried it, you won't want your Pina Colada any other way!
Ingredients
1/4 cup Frozen Raspberries
2 oz Water
2 cups Frozen Pineapple
3 oz Cream of Coconut
3-4 oz White Rum according to preference
1 cup Ice
Instructions
Blend your raspberries and water together until combined and smooth. Then remove from the blender and keep in a separate container. Most of the seeds will settle to the bottom of your blender. Be sure to filter out as much as you can while moving to the separate container.

Rinse out your blender to remove the remaining raspberry puree and seeds. Then blend pineapple, rum, and coconut cream until completely smooth.

Using a spoon or brush, paint the inside of your glass with the raspberry puree.

Pour the Pina colada mixture into the glass, sit in the sun and enjoy!

Garnish with pineapple, raspberries, umbrella or Christmas garnish for a little added treat.