Today's the day! Kitchen Update Reveal Day!
When we first moved into this house, we could see it all; the walls gone, that tiny brown kitchen a thing of the past. But even in my wildest dreams, we never imagined how open and inviting our kitchen would end up being. We're so excited to show you guys where were at and like I said, it's still a work in progress as we wait for more materials to come in and continue to make our kitchen into a warm, functional and inviting space.
You can also check out the recap and full kitchen tour video here!
Now before we show you what the kitchen looks like now, let's take one last look at what it like before. The kitchen was tiny, cramped and with the brown cabinets and floor, pretty dark. We removed the walls between our kitchen and living room including relocating the powder bathroom. It also meant moving some pipes, vents and a lot of electrical, as well as shortening a the powder room window to counter height.
In the days leading up to the kitchen installation, we demo'd the rest of the kitchen; removing the cabinets, installing recessed lighting and building two new pantries.
And then the big day was here! Well… I should say the big 3 weeks were here. A kitchen reno is a process involving cabinet delivery, countertop measuring, appliance installation, and finally counter and sink installation. We had the cabinets delivered the week prior and on the first day of the update, the team started installing the cabinets.
One major thing that is unique to our kitchen update is those wood strips on the ground which are not part of a typical kitchen reno. We've actually had our cabinets
and appliances raised by 1.5 inches to accommodate Kevin's height. This way he won't be hunching over when cooking. It's not super noticeable to the average person, but we've done it with two kitchens now and it makes a big difference for Kevin.
The countertops we chose are white quartz. We chose quartz for it's beautiful look, but also it's durability. While marble is gorgeous, it is also incredibly porous and needs to be sealed every six month. That kind of maintenance just doesn't fit our lifestyle, at all. For the overhang, we decided to go a little bit longer than is normal (16 inches past the cabinets) which required steel support beams. We opted for these flat beams as opposed to the standard "L" shaped support for a more seamless look. The brackets are from The Original Granite Bracket.
And here it is! The kitchen update progress!
We've still got a ways to go, but we are so in love with the progress so far!
We took a risk which was terrifying and opted for colored cabinets. These ones in the front are KraftMaid in the Thornton cabinet in Bonsai. And the back cabinets are Thomasville in Anson cabinet in Tumbleweed. The whole kitchen is done in the Silestone Calcutta Gold Quartz countertops
All of the cabinets have the same gold hardware, Amerock 3 ¾ inch pulls in Golden Champagne.
Since the kitchen is so long, we really wanted to break it up with a different color cabinets. The matching hardware keeps them connected but also let's them be their own unique spaces.
The appliances we chose are all Bosch including the refrigerator, gas range, hood, dishwasher, microwave and a second electric oven in the corner. At the last minute of the design process, we choose to swap out a cabinet microwave combo over the range and replace it with a hood vent. A hood was never part of our plan, but it really helps to keep the room light and open.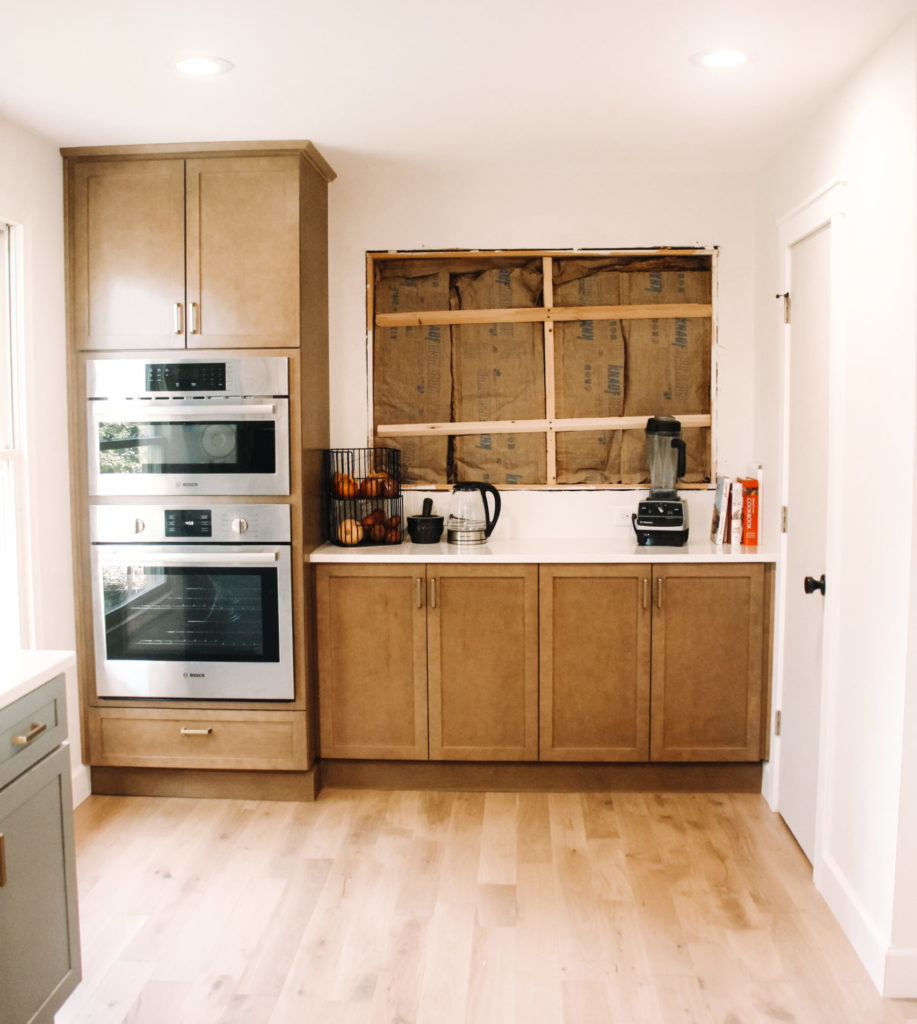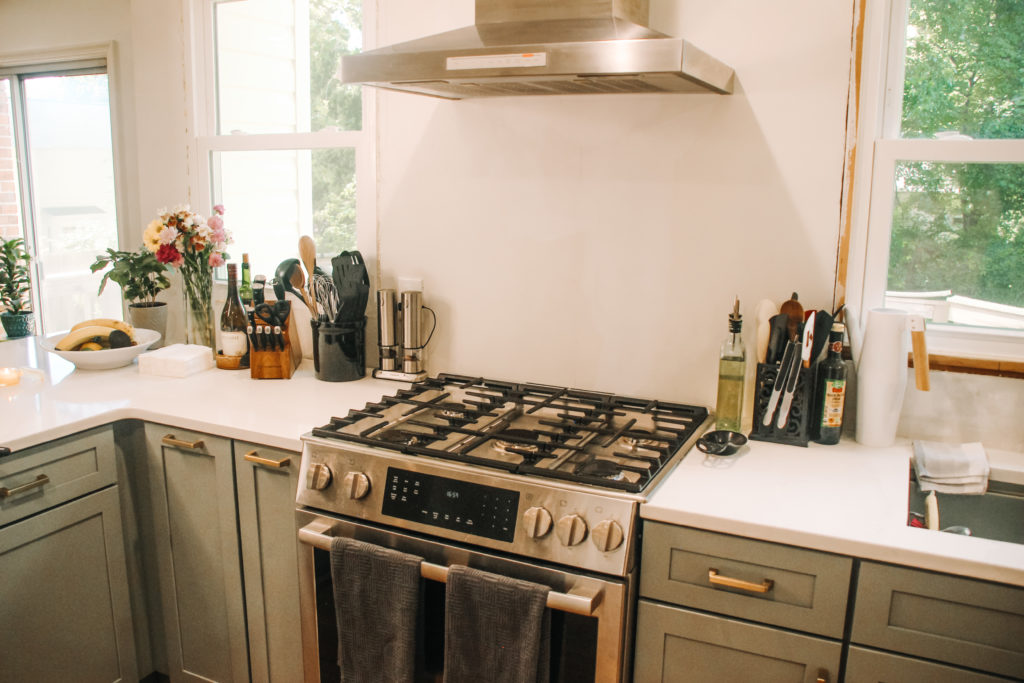 We love it! It's so big!! And it looks amazing with the new hardwood floors!
On the right hand side, we're still waiting for the doors to come back in stock for our pantries, so we're just kind of hanging out without them for now.
We've gone through some of the highlights that we absolutely love in the video above if you're interested in some new features even we've never seen before. These features include:
A water faucet inside the refrigerator
A pull out corner cabinet
Cutting board and colander holder built into our sink
Some things that we're excited to be working on soon are:
Designing the craftsman doors
Finally choosing a backsplash and pendant lights and getting that all installed.
Look at this space and how open our floor plan is now!
Be on the lookout for all the cool things we have coming up as we take this kitchen to the next level! This view is only going to keep getting better and better. Would you ever take the leap and considered green cabinets? Let us know what you think in the comments below!