Today I'm going to show you how to fix on of the most popular issues you'll have in your home. How to patch a drywall hole.
We have a bunch of little holes from running a wire for our recessed lighting a few weeks ago and I wanted to take you through the process of how to patch them in a couple different scenarios.
For this project you'll need:
Drywall
A Utility knife
A saw if necessary for cleaning up your edges
A measuring tape or ruler depending on the size of your project
A pencil
Drill
Drywall screws
Extra wood that will be at least 2 inches longer than your hole.
Drywall tape
Joint compound
A putty knife
Fine Sand paper (120-150 grit)
The best way to see it is by watching it – check out the video here!
A couple of notes before we get started.
There are multiple kinds of joint compound including wet and powder versions. If you're just starting out, I would recommend the wet version which is going to come in a tub and will require little to no work to use. The powder form dries faster but requires you to mix it by hand work really quickly before it dries.
There are also different kinds of drywall tape. We have paper and mesh tape. I'll show you how to use both.
This seems like a lot of equipment. Why do we need so many things to learn how to patch a drywall hole?
You may be thinking that the extra wood and the drywall tape seem unnecessary but they serve very important roles.
The extra wood is what we're going to use to keep the new piece of drywall in place. Otherwise your new drywall square would just fall through the hole.
The drywall tape is to keep everything in place and stop the old drywall from separating from the new drywall. Houses shift and move. People :cough: :cough: accidentally run into wall sometimes. Without the tape, a minor shift could cause the two pieces to shift and the joint compound to crack.
So let's get started!
How to patch a drywall hole
I'm going to start by placing my wood piece in place. I've already cut it to the size that I need and since this is a small hole, I'm only going to use one. If your hole is larger than this, you can use two or as many as you need to stabilize the drywall.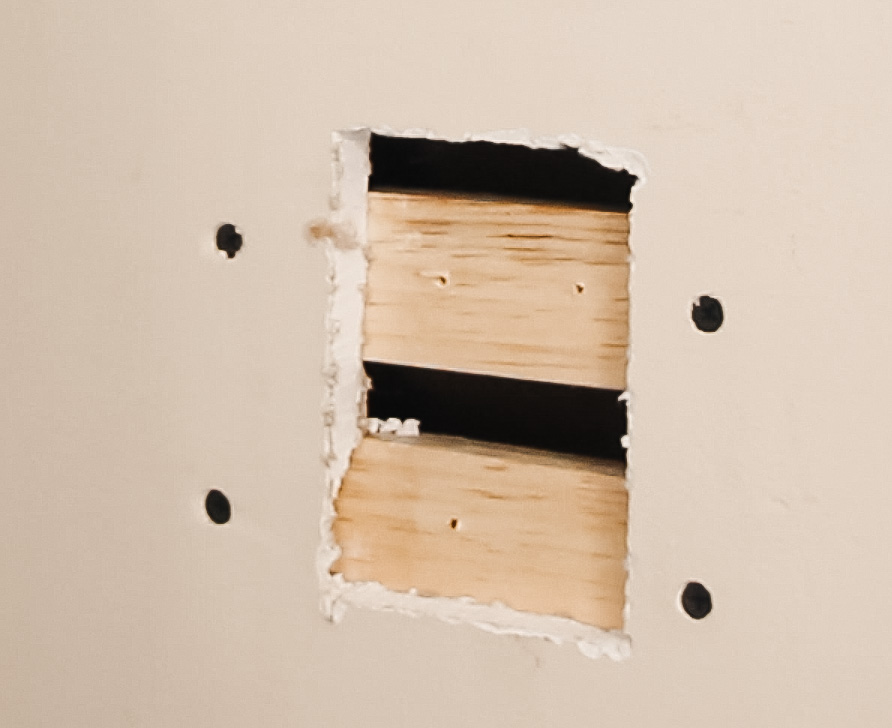 To easily place the wood, I'm going to drill a hole into the middle of the stick to use as a handle to hold onto while I align and screw it in place.
Once the wood is screwed in and secure, I can go ahead a cut my drywall.
Cutting drywall is actually very simple. Once I measure how large my square needs to be, I draw that out on my drywall. Then all you have to do is take your knife and cut along the lines. (I usually go over each line twice).
Then bend the drywall away from the cut and it will snap. Finally, just go back and score the back side of your drywall and you're done!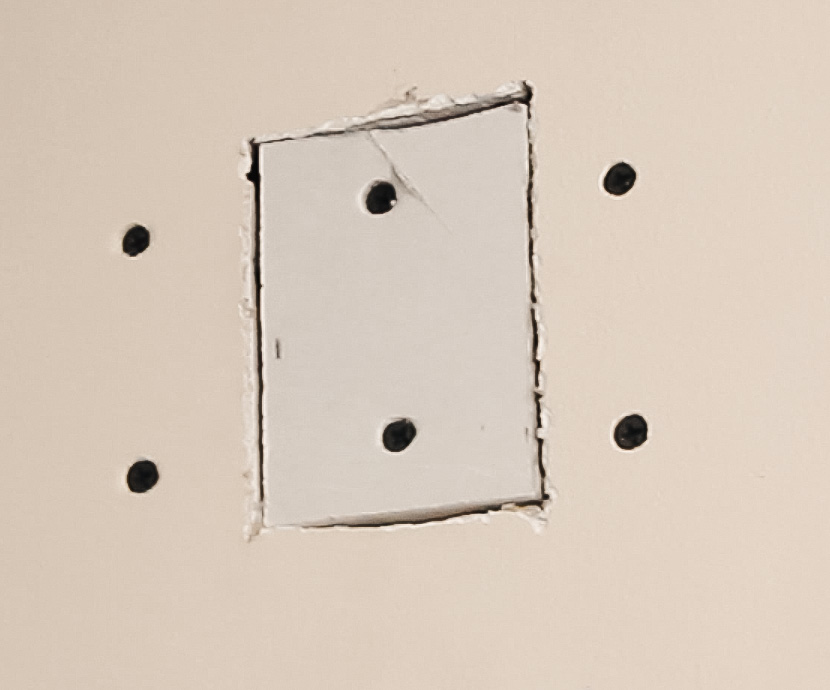 Now we just have to make sure the drywall fits and screw it in. If it doesn't fit, you can take your knife or your saw and just trim it down a bit until it fits snug.
Then just screw it into those wood pieces you installed.
Mesh Adhesive Tape
Once our drywall is screwed into the wall, I'm going to grab our tape. For this first hole, we'll be using the mesh tape which has an adhesive on the back of it. (the paper tape does not). Apply the tape by lining it up along the seam of the new and old drywall. Use your putty knife to press the tape down and secure it in place.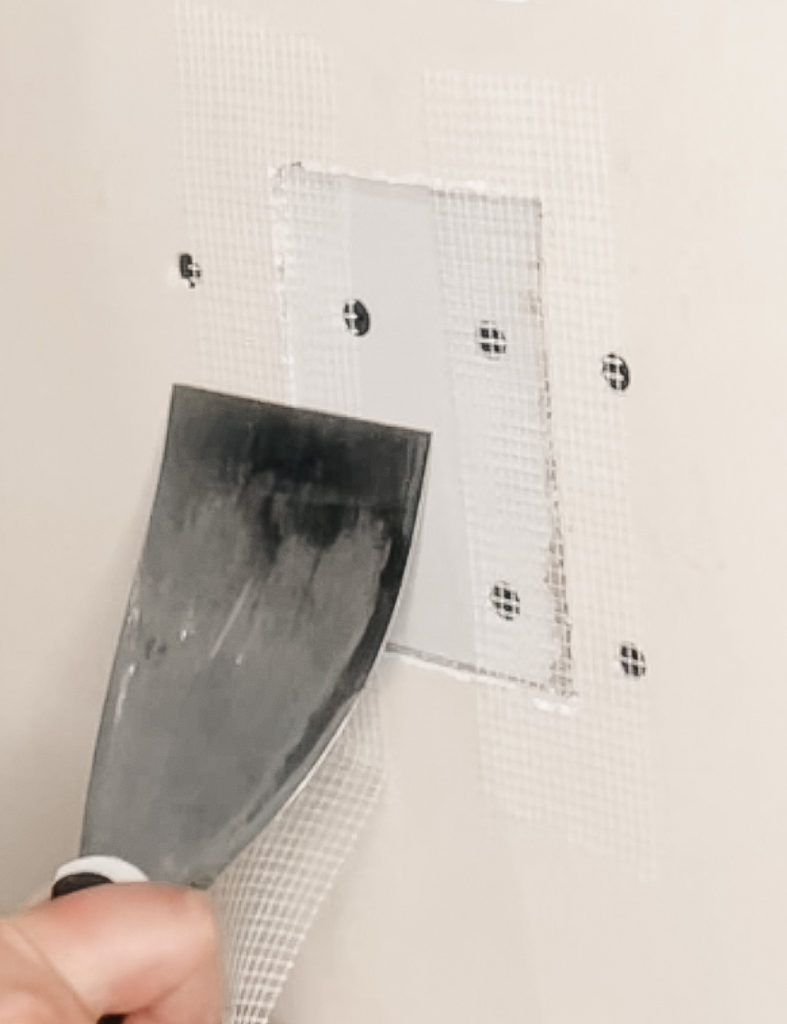 Paper Tape
For the paper tape, you're going to need to have your joint compound ready to go. Since there is no adhesive, you'll spread a thin layer of compound first and lay the paper tape on that. Then lightly cover the paper with another layer.
Now you're ready to slather this thing with joint compound!
A rule of thumb for joint compound is to spread it on as thin as possible, in multiple layers. The thicker the layer, the longer it's going to take to dry and the harder it will be to sand smooth. Apply a thin layer over the tape for the first round and on each round spread the joint compound a bit further out to make a smooth transition to the existing wall.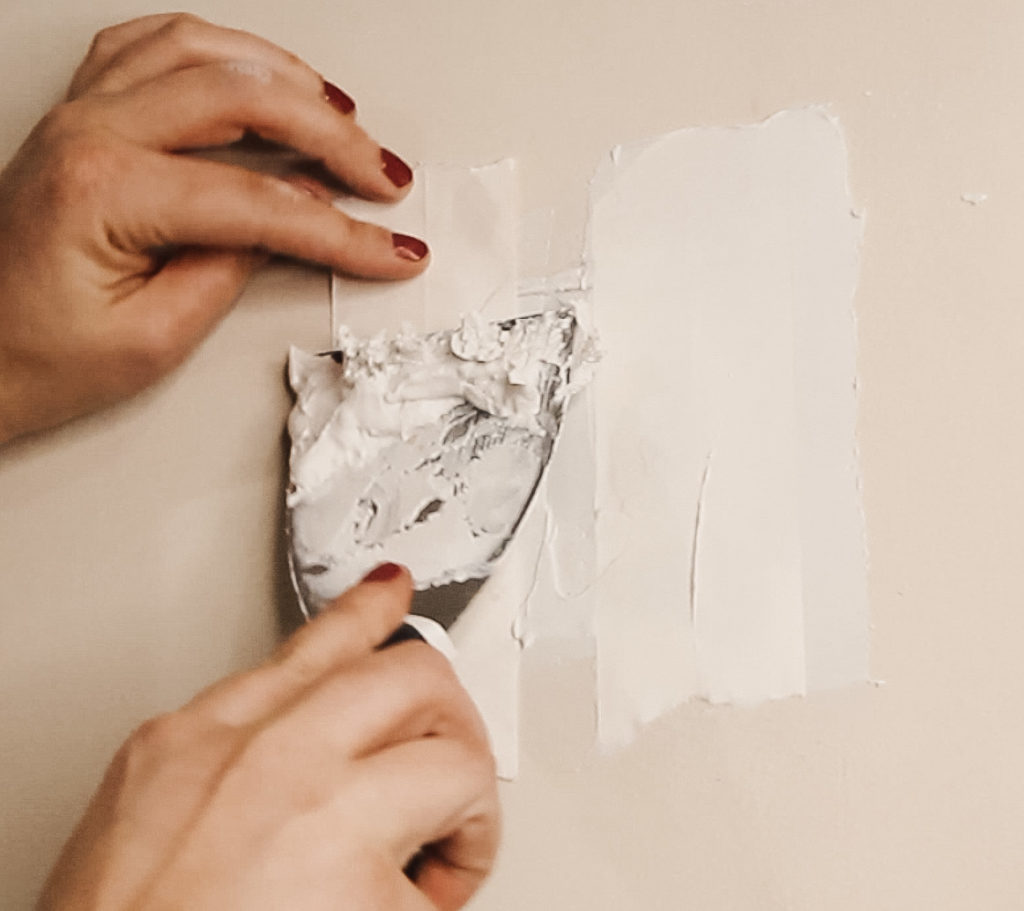 Once your sanded smooth, you're ready for paint!
See learning how to patch a hole in your drywall is easy! Once you try it, let me know how it goes in the comments below!