Every fall, one of our favorite things to do is go apple picking in central Virginia right by Shenandoah. We leave the orchard filled to the brim with apples, wine and way too many apple cider donuts. Over the last few years, I've been stocking up, literally buying an entire half bushel of apples. I then bring the extra apples home, trying to find the perfect treat to make to keep apple day going. Last year I finally found it! Homemade apple sauce is ridiculously easy to make, has no added sugars and is the perfect snack or treat.
When cutting your apples, the main goal is to get the pieces small enough that they cook evenly and relatively quickly. I like to keep my apple skin and leaving my applesauce a little chunky. For this reason I cut my apple cubes a bit smaller. Even after cooking the apples down, there can still end up being pretty big chunks. Cutting them down to small cubes will help keep them bite sized.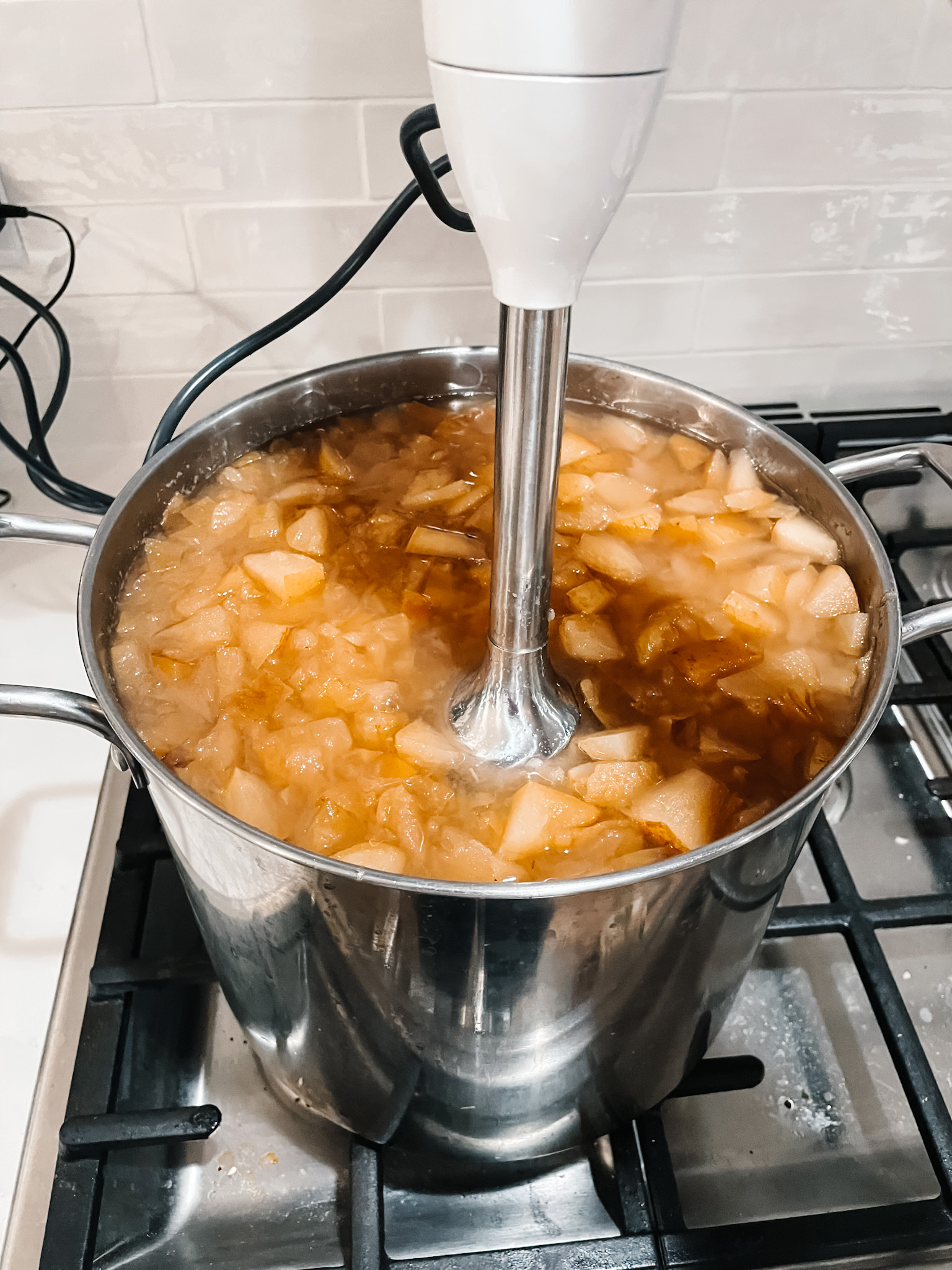 The best part is it's so easy to make. Once you cut up the apples, you literally forget about it for a few hours. You heard me right, just put the stove on low and walk away. The technique for making apple sauces is essentially boiling the apples in a big pot of water until the apples are soft, blending them with the water and then seasoning to taste. That's literally it! I make a massive batch (the last one I used 30 apples!) and jar that golden magic so that I have homemade apple sauce all year round. I can't wait for you to try making it for yourself!
Apples
For this recipe, I typically use Fuji apples, but that is purely based on the fact that it's what the orchard has. While I probably wouldn't pick macintosh purely because they are traditional a little mealy, I would assume any other red apple would do.
Sugar
Like I said, my recipe has no sugar added, but if you finish making your apple sauce and it's not sweet enough for you, add a little bit of honey to bring out the natural sweetness in the apples.
Check out my recipe for Homemade Apple Sauce below!
Homemade Apple Sauce
This deliciously sweet treat is the perfect way to use up extra apples you have laying around. The best part about it is you can customize it to your tastes! I love mine chunky with lots of spice. Like your apple sauce smooth? Just blend it up. Apple sauce is the perfect treat that you can feel good eating!
Ingredients
8 medium red apples
6 cups water
2 1/4 tsp ground cinnamon
1/8 tsp ground clove
1/4 tsp ground nutmeg
honey needed
1 pinch of salt
Instructions
Cut your apples into small cubes. Most of the skin will break down during cooking, but if you want your apple sauce to be super smooth, you can peel the apples first.

In a large pot, combine apples and water and bring to a boil.

Once water begins to boil, lower to medium and allow to cook for 3-3 1/2 hours, stirring occasionally. Eventually the apples will get super soft and begin to break down. Test with a fork until they begin to split apart.

Using a potato masher or immersion blender, blend apples until desired consistency. (Do not drain the pot) If your batch is small enough, you can also add the apple sauce to your blender, but do it in batches in order to not over fill your blender.

Add remaining spices. If the natural flavor of the applesauce is not sweet enough, you can add a little bit of honey as needed.

Cook applesauce for another 20-30 mins until the spices taste like they're well incorporated.
While this apple sauce is just for me, it could be a great natural snack for a baby or young child (just blended down more of course). I know you're just going to love this apple sauce. Plus as a bonus, your house is going to smell amazing! Try eating your apple sauce still warm from the pot or put into the refrigerator for a nice cool treat.