Halloween is just around the corner making it the perfect time for some new decor. We have a lot on our plate these days so I didn't want to do anything that took a lot of time or was overly complicated. I loved the idea of these terracotta pumpkins from Pottery Barn, but like many things, they cost more than I was hoping to pay for seasonal decor and honestly a little creepy. What if I could make a less pricey and happier version of the jack o'lantern? So that's what we did for under $22. Check out below how to make your own terracotta pumpkins!
Tools You Need:
Artificial pumpkin / Jack o'lantern
Pencil
Utility knife (optional)
Terracotta colored paint (I used orange, brown and white)
Paintbrush
All-Purpose Flour
Prep your Pumpkin
I started with a "cut your own" faux pumpkin. This one came from Target, but I also saw them for a few dollars more at Michael's Craft Store. The pumpkins are made from a very firm foam that will last year over year, but it is very malleable and you can cut into any design that you want.
Fair warning, like anything artificial these pumpkins do smell a little chemically when you can into them. The smell will fade over time and will quickly become a none issue.
As an alternative you can totally use a pre-cut jack o'lantern. (I'm just cheap and these cut your own were a less expensive option costing only about $10).
I drew out my design and used a utility knife to begin cutting out my design. I was able to make adjustments and create the perfect happy pumpkin face.
Using Air-Dry Clay
Now that my pumpkin is smiling, I wanted to extend the stem to make it more substantial. For this I used Crayola Air-Dry Clay with you can get at any craft store or online. It works like normal clay with the caveat that rather than needing to bake it, it takes about 48 hours to completely dry.
TIP: When working with any type of clay, water is your friend. It's a great tool to help make the clay more moveable, smooth out edges and gives you more precision.
There were some cracks in the clay once it dried. I'm honestly not sure what I could have done to prevent that as it was totally smooth when it was wet. To fix this I grabbed some paintable caulk that we had from other projects and filled the cracks in. Like the clay adding a little water made the patched areas smooth and completely undetectable.
Making The Jack O'Lantern Into A Terracotta Pumpkin
The caulk only needs 30 minutes to dry and then it was time to start painting. To get the perfect terracotta color, I used acrylic paints that I already had in my craft supplies. I mixed orange, brown and white paint until I got the color that I was happy with. (I have found that you can get very reasonably priced acrylic paint from Target – only $1 per container!)
Since we're going for a terracotta pumpkin look, you can paint the pumpkin all over including the stem. I didn't worry much about the inside since you can't really see it without shadow, but if you can I recommend painting that as well.
My one regret is picking a white pumpkin to start with. They came in a few colors including blue and and orange. In hindsight, I think the orange would have been the best option. With the white pumpkin I ended up needing to do 3 coats of paint just to make sure it was completely covered. With the orange I probably could have gotten away with less.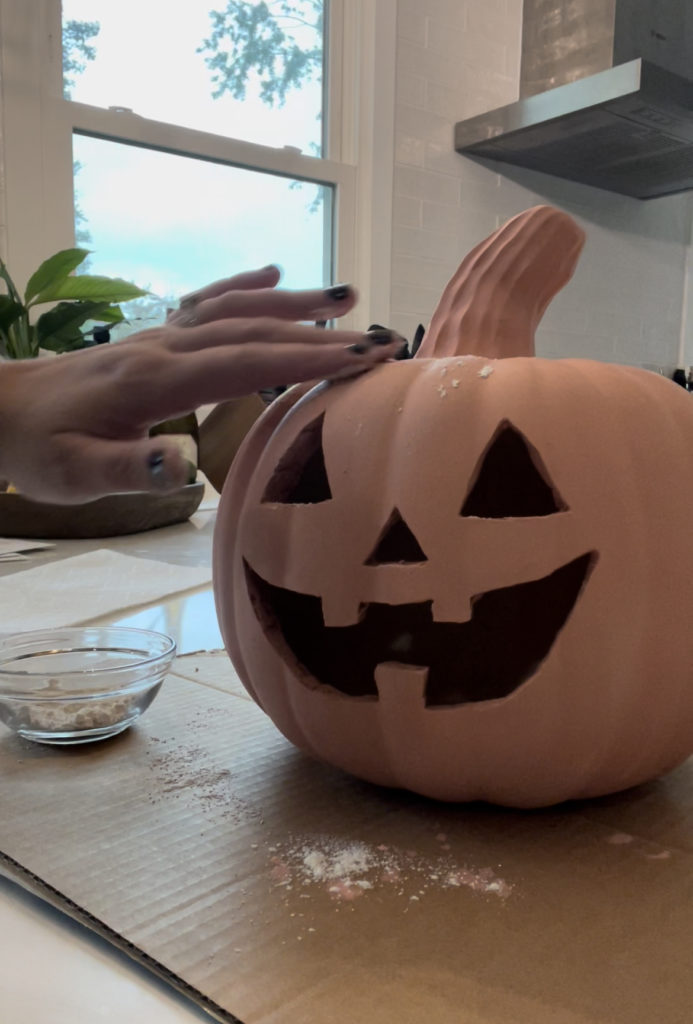 Wait until the paint on the terracotta pumpkin is completely dry.
So how do we take this from a regular orange jack o'lantern to a terracotta pumpkin? (This is where it gets really good!) It's so simple! All it takes is some good old fashion all-purpose flour.
Get ready to get your hands dirty because the easiest way to apply the flour is with your hands. Gently pushing the flour into the surface of the paint, the flour will stick to the surface. Once the pumpkin is covered, you can use a clean brush to lightly dust off the excess flour.
Overall the flour sticks on pretty well and I haven't seen any remnants falling off onto our table, but only time will tell if flour needs to be reapplied next year.
How cute is this finished product!? Does it look completely like the original terracotta pumpkin? Of course not! But I actually like mine more. With the combination of the hand crafted stem and the dusty terracotta top coat, it really does look like a terracotta pumpkin. What do you think? Would you try to make your own?
Other Terracotta Dupe Uses
There are a ton of other things you can do the terracotta look from besides just the pumpkins. While I wouldn't recommend doing any outdoor decor, you could totally do some cute spring time bunnies for your sunroom or even make an existing pot look like terracotta.
Don't want to use flour?
Baby powder would also be a great alternative if you're worried about bugs (although I haven't had any issues so far). What will you make? Tag me in your terracotta pumpkins! I can't wait to see them!