We did it! We're finally at Part 3 of our How to Demo Floors series. I'm so glad I saved pulling up carpet for last because honestly, I'm exhausted! This is by far the easiest of the three floor types and can be done pretty quickly.
Carpet makes up about 50% of our first floor and is in the Dining Room, old Office and new Office spaces and I'm so grateful because I just want this demo to be FINISHED. There are also a ton of holes in the carpet from where we've moved walls and vents. Having one cohesive floor across the entire first floor is going to be such a big upgrade!
See how it went on my channel or scroll down to do it yourself!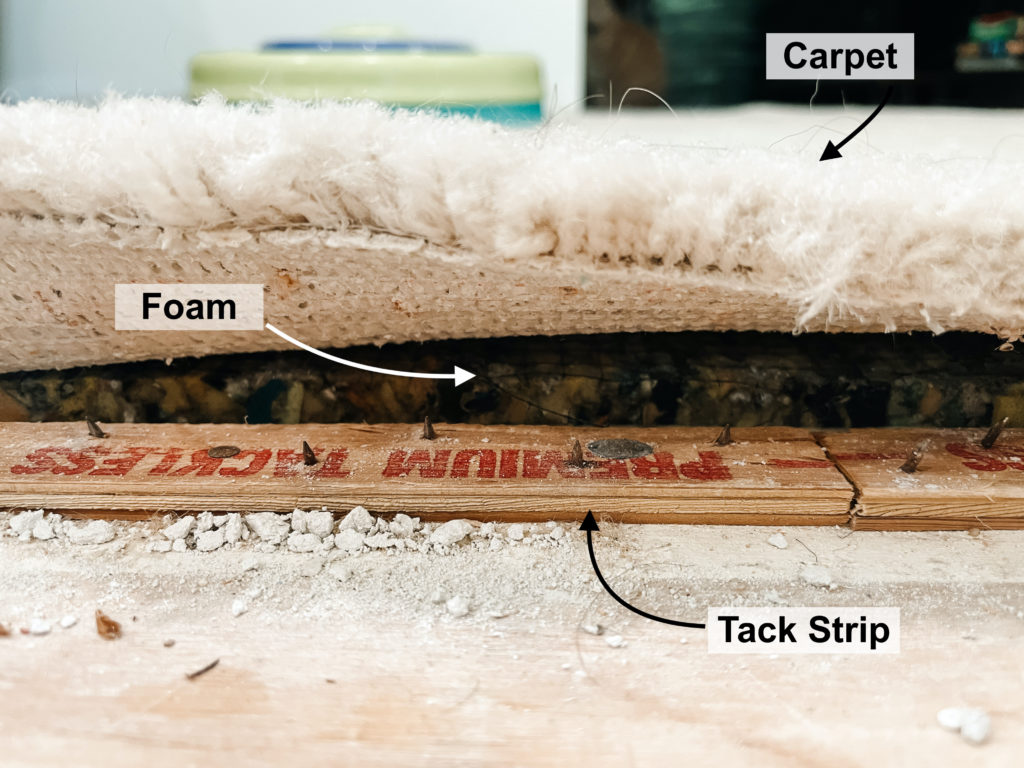 It all went pretty straight forward. The carpet has two layers to it. The carpet itself and then a foam cushion underneath. There is also a tack strip that runs along the outline of the room that helps to hold the carpet in place. Be carful when working with tack strip! It is lined with very sharp grips to hold the carpet in place and can be very painful if you're not paying attention. Alway wear construction gloves if you have them.
What do tools do you need for pulling up carpet?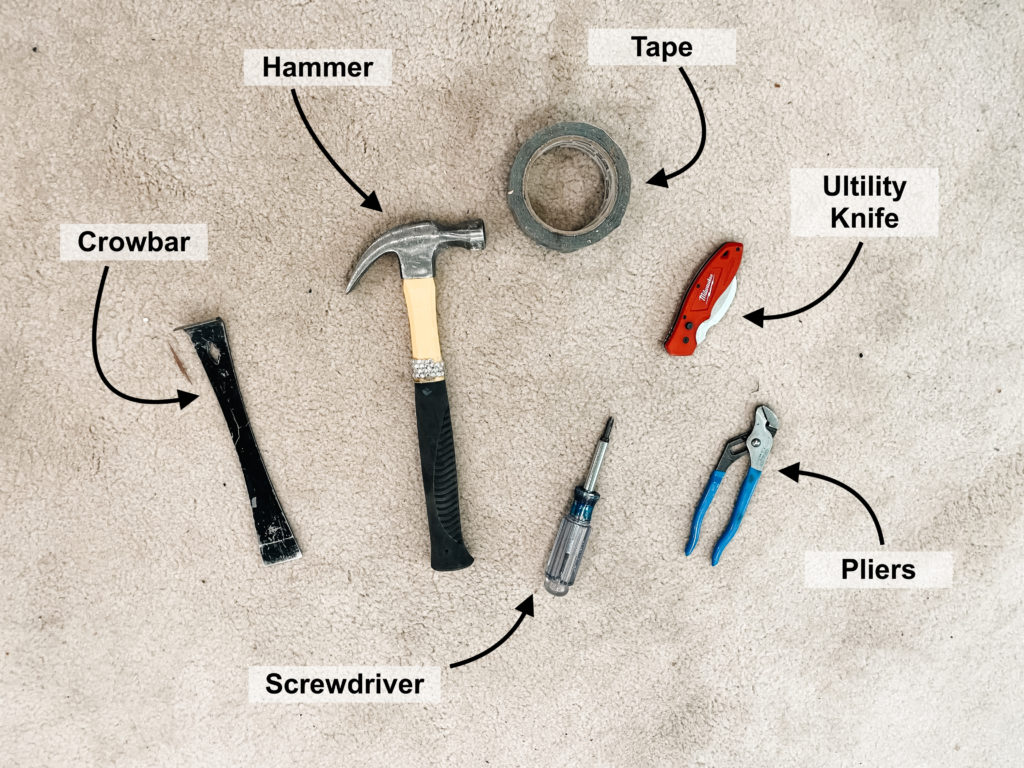 You'll need:
A utility knife
A crowbar
A hammer
Duct Tape
A screwdriver
Pliers to pull up the leftover staples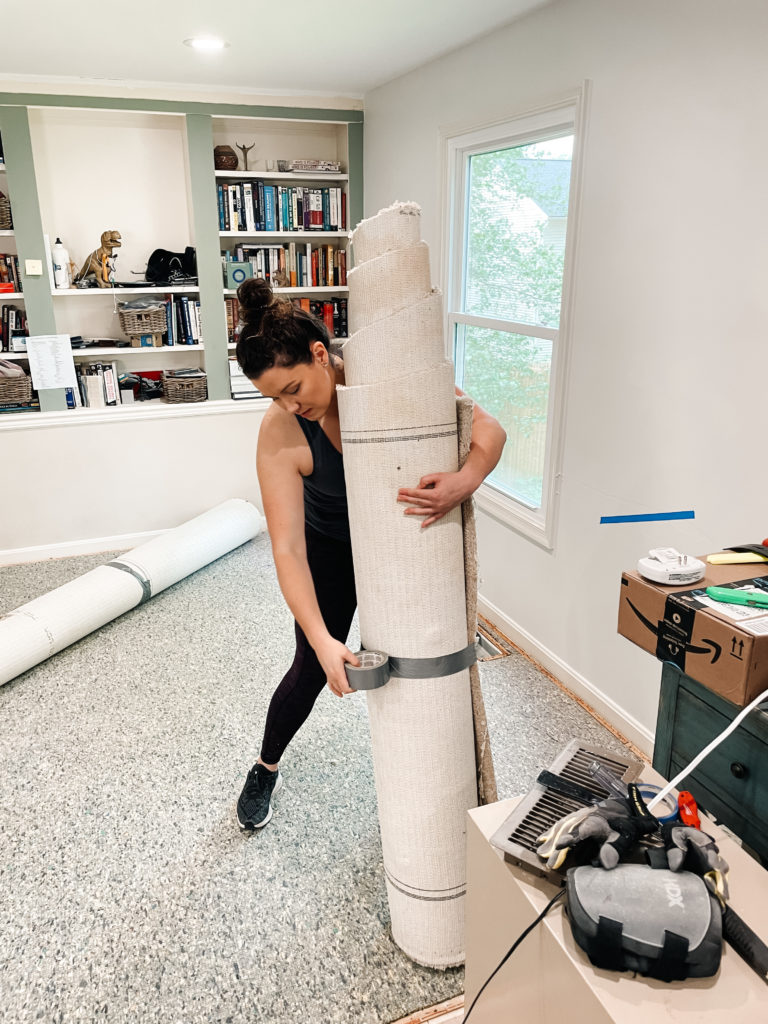 One of the biggest challenges with this project was always going to be successfully rolling up the carpet and getting it out to the garage without making a fool out of myself.
So, using my utility knife, I cut the carpet into large rectangles. As long as your knife is sharp this should be pretty simple. I have used duller knives in the past and it was a little bit messier (more so because the carpet fibers get everywhere). Then I rolled the carpet up and duct taped the rolls to make it more manageable to carry out.
Once the carpet is up, this foam layer comes up really easily. The only thing attaching the foam to the subfloor are staples. I started by just worrying about getting the foam out and coming back for the staples later.
The foam layer is thin so you can simply just fold it like you would a giant towel to get rid of it.
Then I removed to the tack strip.
Tack strip is basically just a thin piece of wood that outlines the room. It's nailed into the subfloor and has tiny little pokers (tacks) that stick straight up to hold on to the carpet and keep it in place.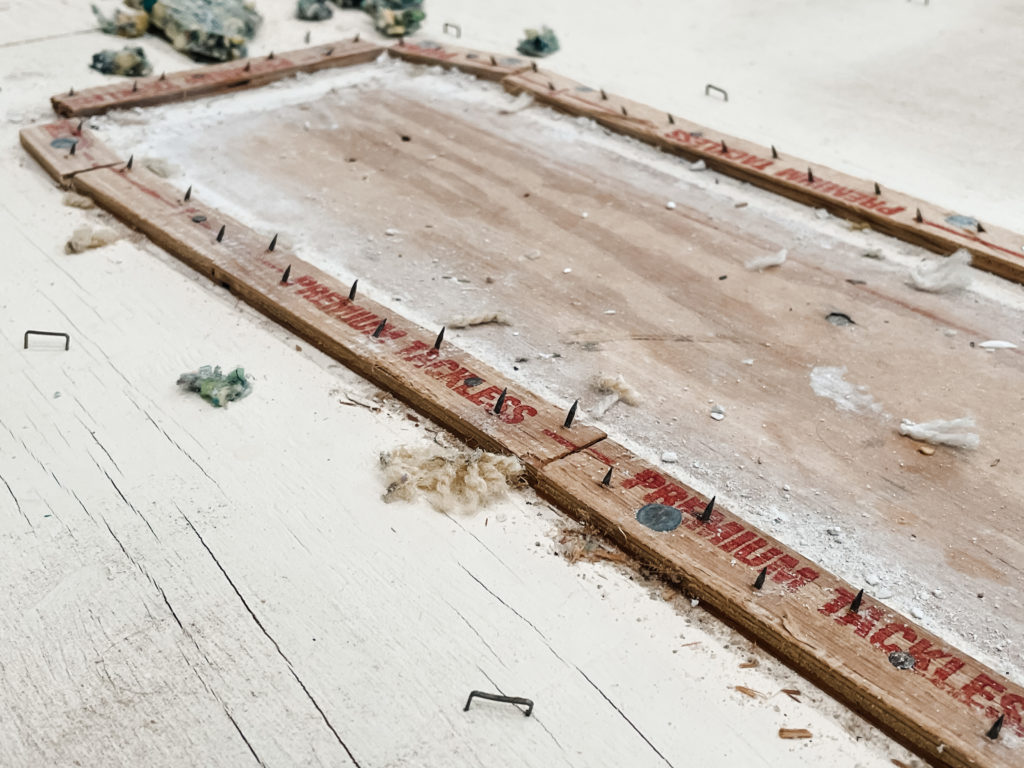 This is honestly a pain in the butt. I'm not sure if it's just the particular strips used in this house because it's old or if this is just how this stuff works, but it can be very finicky. What I learned was that the best way to pop it them up is to find the nails and wedge your crowbar in right where it's nailed down.
I learned this the hard way by starting wherever I felt like for the first 20 minutes and absolutely shredding tack strip. It was a disaster. It wasn't until Kevin mentioned it that I tried it at the nail. Learn from my mistakes!
To finish off I popped out the leftover staples. They're easy to find because they typically have these massive chunks of the foam layer attached to them. I guess in theory you could hammer them into the wood, but as you could see a lot of them were bent and twisted. So, I took a flat head screwdriver and popped them out. For those that got stuck, I just used my pliers to pull them the rest of the way out. You'll want to make sure you get all of the staples out, especially if you are installing hardwood or tile in it's place. The surface will need to be completely smooth ahead of your install.
That's it! Pulling up carpet is complete!
Thanks so much for joining me on this floor demo journey. I don't know about you guys, but I'm ready for some wine. A LOT of wine. Overall, demoing our first floor myself saved us thousands of dollars. It was definitely worth it, but it was hard work! I think I'm going to take a break from hard labor and let the hardwood installers do their magic next week.
After living with the walls down for almost a year now, I can't tell you how excited we are to have all one floor that's one material, one level, and one color!
Stay tuned — new hardwood floors are coming in hot!