I know, I know…. This is how we know we're in our 30's right? We get excited about cleaning products that work, can talk at length about skin care and vitamins and turn down the music in the car to see better (I'm looking at you Kevin). We'll add getting excited about installing a window in our kitchen to that list because I. AM. EXCITED.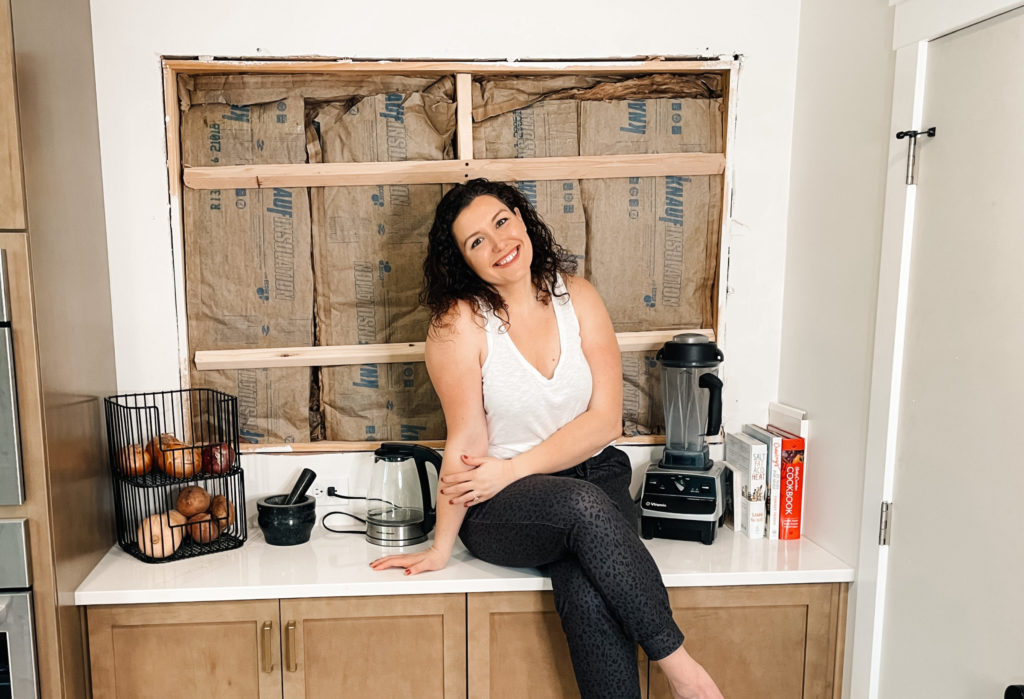 If you've been watching our videos, you probably noticed this big brown square behind me in a few of them. That's our "wall" of insulation while we wait for the window to come in. It's not the most glamorous thing, but it is certainly keeping our kitchen warm(ish) during this cold winter.
But installing a window is a big deal! Why do you need it?
If I could add windows everywhere in this house I would. One thing that we didn't think about when we bought this house was how the sun rises and sets (because why would that have been a concern?)
Turns out, our house must be exactly south facing because the two sides of the house (aka the only places without windows) get all the sunlight. Which means that we get very little direct sunlight into our house. How are our plant babies supposed to survive without sun?!
I'm kidding…. Kind of.
This space used to be a kitchenette/breakfast room area and has now become an extension of our kitchen. And yes, that is a washing and dryer in the kitchenette, but that's a conversation for another day. Adding a window here will give us so much additional natural light that our home desperately needs.
Additionally, we do currently have a window on the adjacent wall, but we have big plans for that window and let's just say they're not plan that are going to give us more light.. in fact probably the opposite.
Installing a window: How did we decide where the window was going?
I had this grand plan that involved cabinets on both sides of a large window. But when we mapped it out on the wall, we only had the space for a small normal sized window which frankly would look kind of awkward. I strong recommend mapping out your plan using tape ahead of time. It gives you great perspective and helps you visual in order to design the best solution for your space.
This is where we landed. The left side would be floor to ceiling cabinets and underneath would be just lower cabinets.
See where I'm going with this??? It's gonna be a big window!
Now we're confident doing a lot of things, but taking on a potentially load bearing exterior wall was not one of them. So, we reached out to our general contractor, Heber, to help. Now that we've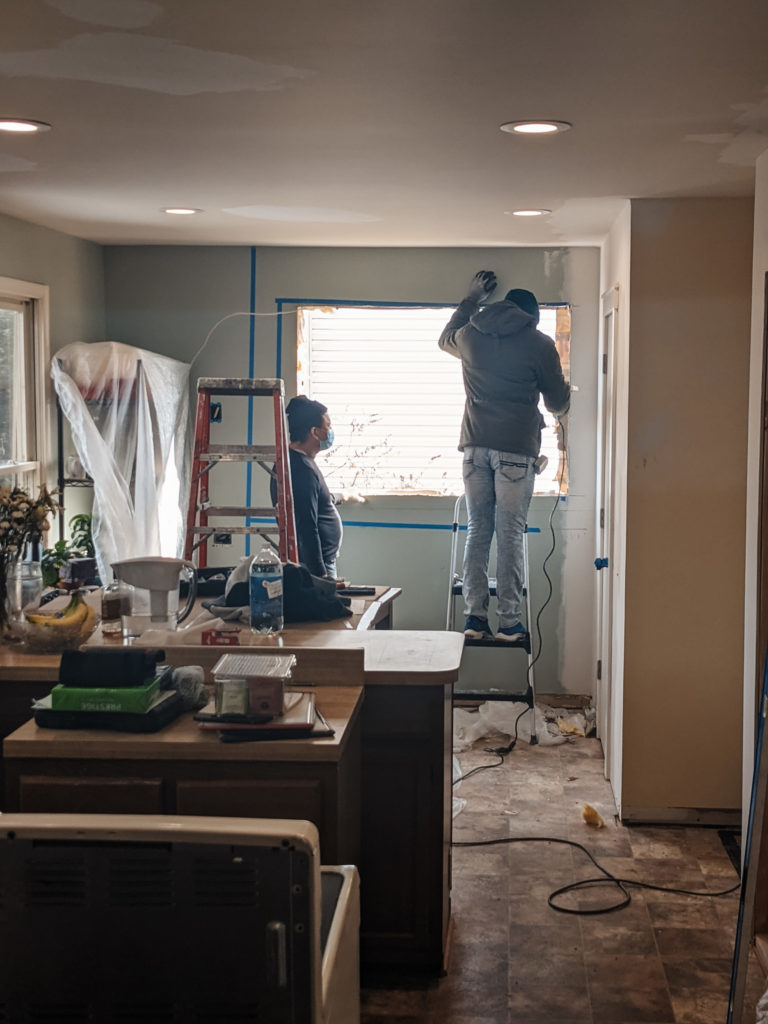 seen it done, we totally could have done it. Mainly because there is no second story on this side of the house so there isn't a ton of weight to worry about. The wall wasn't actually load bearing like we expected.
But at the end of the day, I think we'd both prefer that this was done correctly than worry about it for the next decade.
Look how much light there already is coming into this space compared to before the hole was cut!!!
Since we opted for a custom size, we ended up having to go through a window company and are now just playing the waiting game. Currently it's supposed to be ready for installation in July and I'll let you guys know as soon as it's here.
Since we still want the window to open, we've opted for a slider window which will be different from the rest of the windows in our home, but at the end of the day, look like two windows right next to eachother.
Just because it's custom, doesn't mean it's more expensive! The smaller, off the shelf windows were cheaper, but labor to get them installed was actually going to end up costing us more than we're paying.
When all is said and done, this window is going to make a major impact on the natural light coming into our house. Plus Mr. Basil Plant will finally get the light he deserves.
Stay tuned for the window reveal and also don't miss me learning how to add window trim to our kitchen windows