After 2 years of searching, countless applications and the amazingness of our friends and family to keep giving references, we finally have the most perfect addition to our little family.
We're beyond happy to introduce Theodore Benedict Mangold or Teddy for short.
Teddy came home at the end of December right before Christmas and he is just the sweetest, chillest pup. He's moved around a lot so we're working hard to show him that this is his forever home.
His name when we adopted him was Benny, but that was so close to Buddy we were worried it was going to be too confusing. Instead we kept paid homage to Benny with his middle name and change the first time to something that was close enough that he wouldn't have an identity crisis. So far he seems to be adapting to the new name really well!
How's Teddy doing in his new home?
So far so good! He came to us crate and potty trained which has been such a major help. He's got some separation anxiety, but it only seems to be a big issue when he knows we're upstairs and he's not with us. When that happens, this puppy is ALL DRAMA.
He's also a little shadow and follows us around the house at all times. So far he's adapted to the sound of drills, but the nail gun is going to be a work in progress. Either way we definitely have a construction dog on our hands!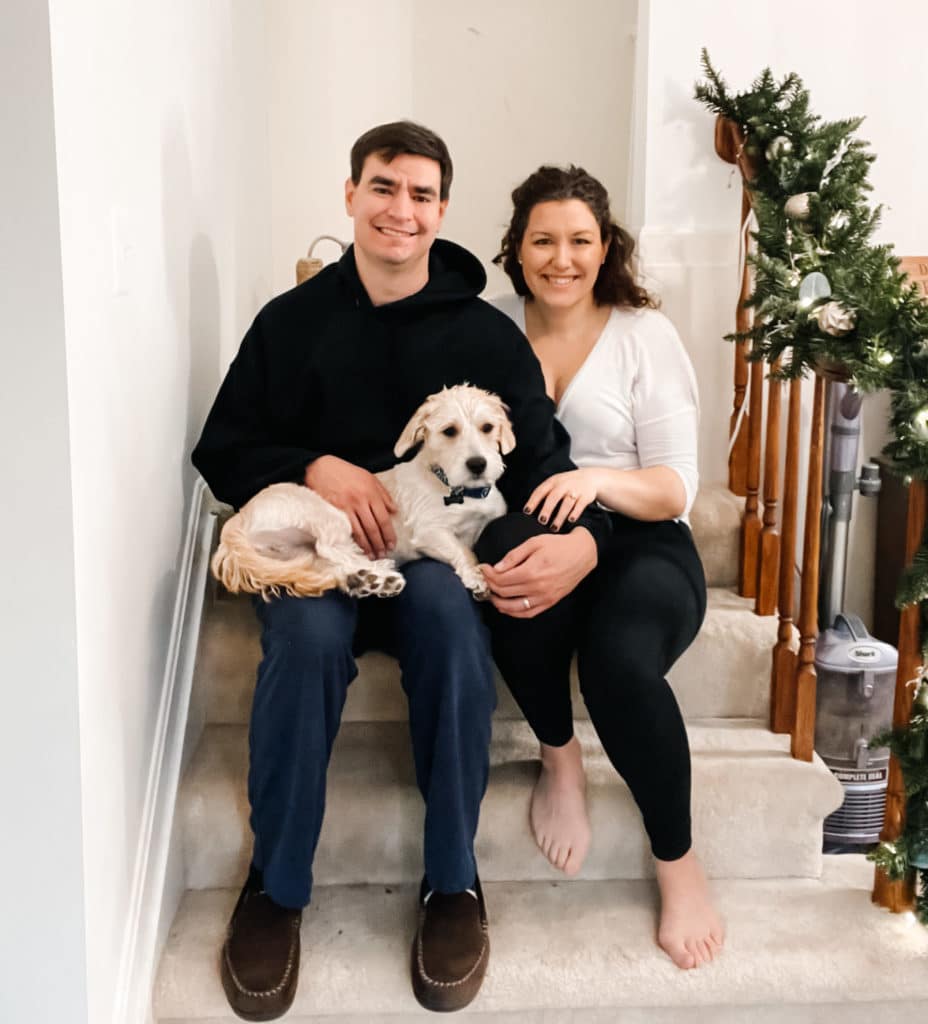 Tell us about him! What kind of dog is he?
Teddy is about 10 months old now, which means we have a birthday to plan! We're not sure what kind of dog he is, but we're guessing terrier with a bit a schnauzer. He's fully grown at 23 lbs. Luckily he doesn't shed much (which is ideal for allergies) but we noticed he does shed a lot when he's scared.
Right now Teddy is really scared of cars which is less than ideal for us given our busy street. We're hoping that once the weather warms up and we can open window he can begin to acclimate to the sounds of the traffic outside…. his fear of birds and toddlers.. that's a different story.
How is Buddy handling everything?
Ehhhh, let's just say it's been an adjustment. Buddy has never lived with another animal before so it took him a little while to get comfortable with the idea. For the first two weeks, they lived on separate floors with a baby gate in between them. Now they're co-existing throughout the whole house. Buddy is in charge and they both know it. I think secretly Buddy really wants to snuggle Teddy so its only a matter of time.
As of now, the relationship is Buddy walking around the house and Teddy following at a distance. We've been lucky and there hasn't been any physical issues where Buddy felt like he's had to attack. At this point I'm hoping we're passed that stage.
But you don't have a fence. Are you walking him all the time?
At first yes… multiple times a day which was really hard on us. We ended up getting a tether that we can send him out into the back yard with. As of now he's being monitored while outside until he's comfortable in his environment (and it's a little bit warmer. I have to say it's such a relieve to no have to put on all my warm gear at 5 am to take him on a walk anymore. There is nothing like scaring your neighbors with last nights makeup under your eyes first thing in the morning.
Eventually we will be getting a fence and hopefully that happens next summer so we can get rid of the tether entirely.
How's training going?
So far it's pretty good. Teddy knows how to sit and stay on command. We're getting much better at laying down and I think the rest will be a while. For now he's learning his schedule and getting used to a routine and that has been really good for him. We also decided to invest in a ton of different chewable options so cross your fingers, we haven't had a single item destroy yet.
Overall,
It's a relief to see him finally comfortable and not always worried about being taken away to a new family whenever we have visitors. He's playful, so happy and has brought so much joy and entertainment into our lives. (We're also learning how much more work he is than a cat – we had it so easy!) We're so in love with this little guy and can't wait for you to all fall in love with him too!
Also, you've been warned: be prepared for a lot more Teddy photos moving forward. Sorry… but not actually sorry!