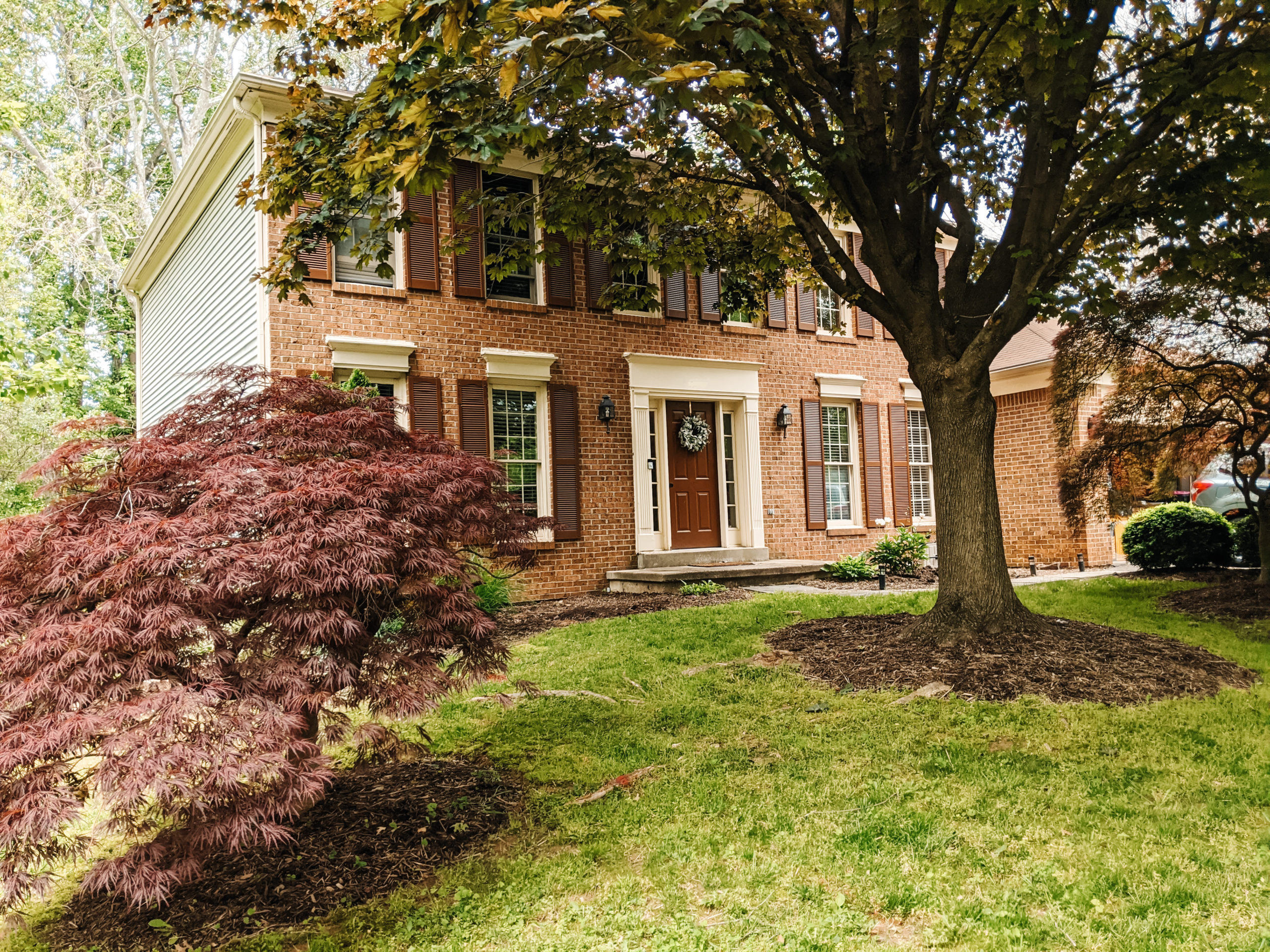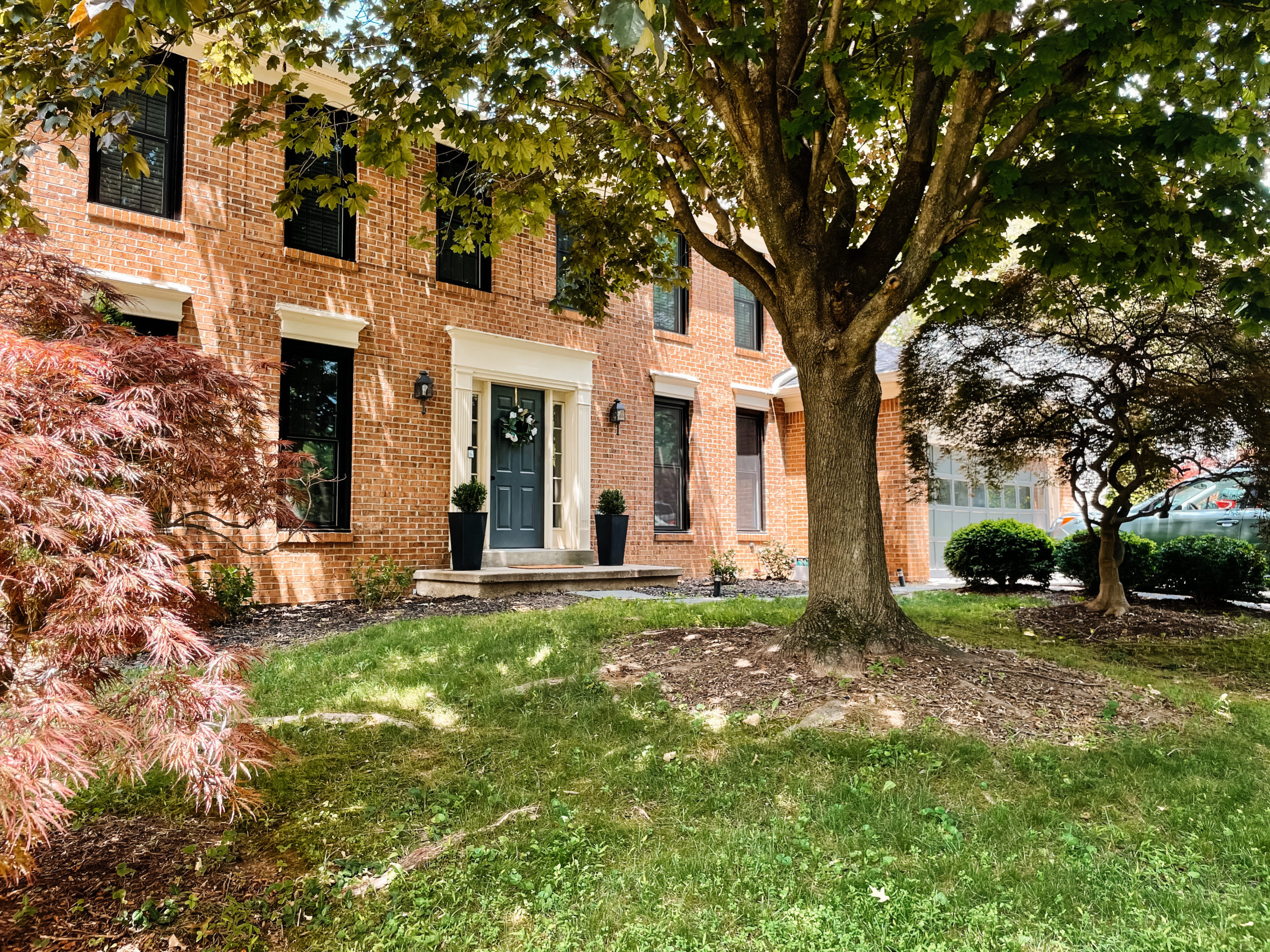 When we bought this house, I had so many plans for the inside, but frankly the exterior wasn't on our radar. We knew we'd eventually need a new roof, that the siding was dirty and all of the windows needed to be replaced, but we never expected to end up with a completely updated colonial home. Here's what happened:
Our Updated Colonial Home
Trim and Gutters
One thing that people don't really think about when buying a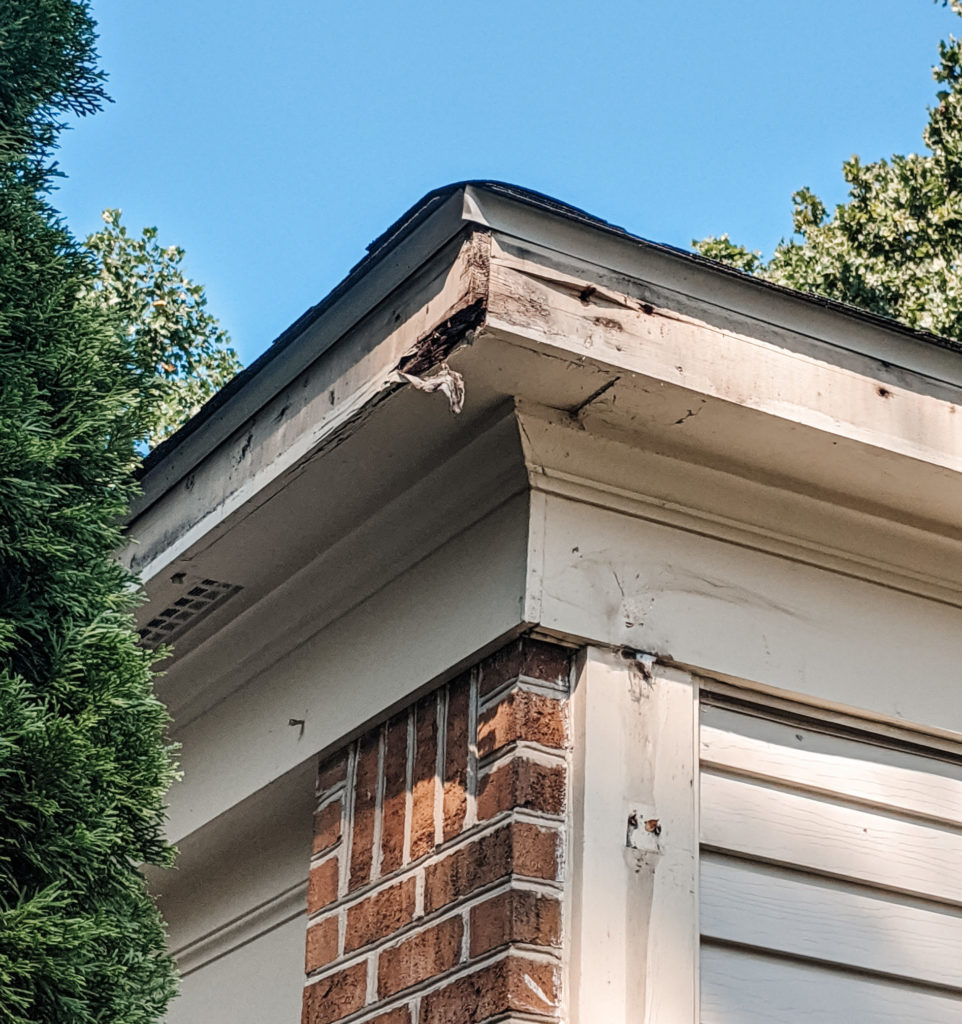 house is the general wear and tear on the wood.
Ok I take that back.
It occurred to Kevin, it just didn't cross my mind until we got our home inspection back. It's not super noticeable unless you're looking for it. A lot of the rot also existed underneath the gutters so we had to take the gutters off to fix it. Unfortunately, 35-year-old gutters are installed with giant nails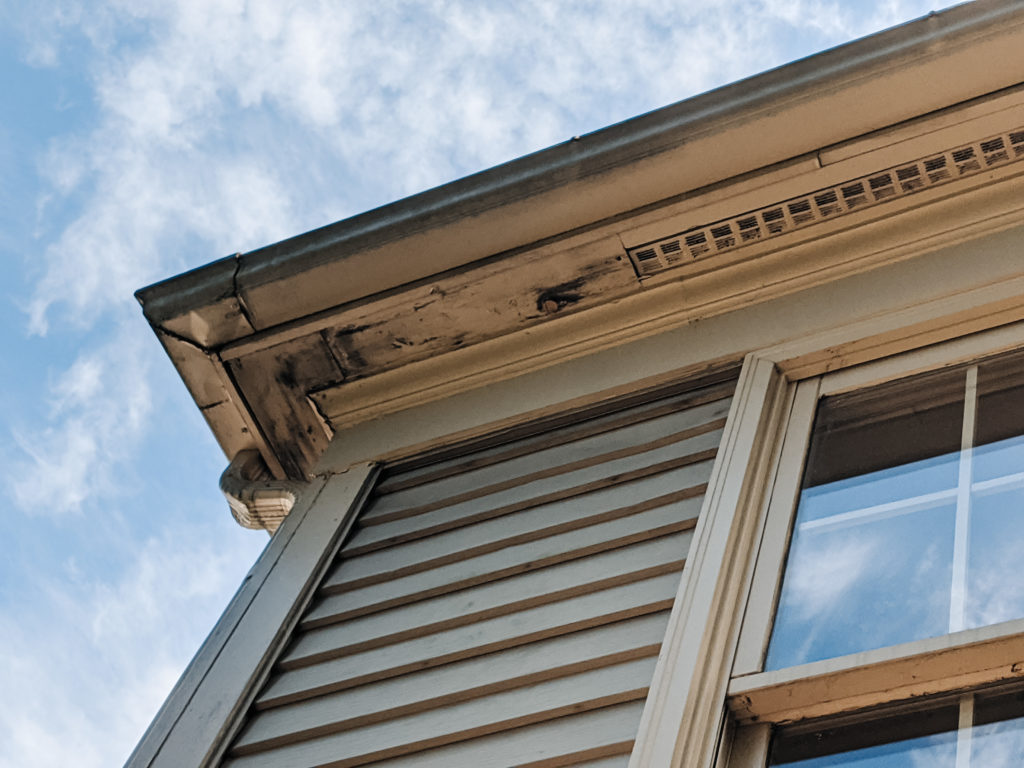 and the gutters pretty much just crumbled when we took them down. So, the gutters had to get replaced as well.
Propane
While this was happening, we got started on fixing the chimney which hadn't been looked at for years. I also want to preface that this is an electric house… we are very much gas people and actually have a major gas line running right past our house, but when I called the gas company to see if we could tap into it, the guy laughed at me! Digging in further, I found out that it would cost us 10 of thousands of dollars to run a gas line down our street and then to our house, so that wasn't an option.
This is when we decided to move forward with a propane tank. The tank would cover our fireplace, gas range, and eventually our grill and future gas fire pit.
To get a propane tank, you need to have a survey done of your yard and also have a company run the piping from the tank to the necessary places. In our case, we opted for the 100-gallon tank which based on our needs, we would need to have refilled 1-2 times a year.
New Roof & Siding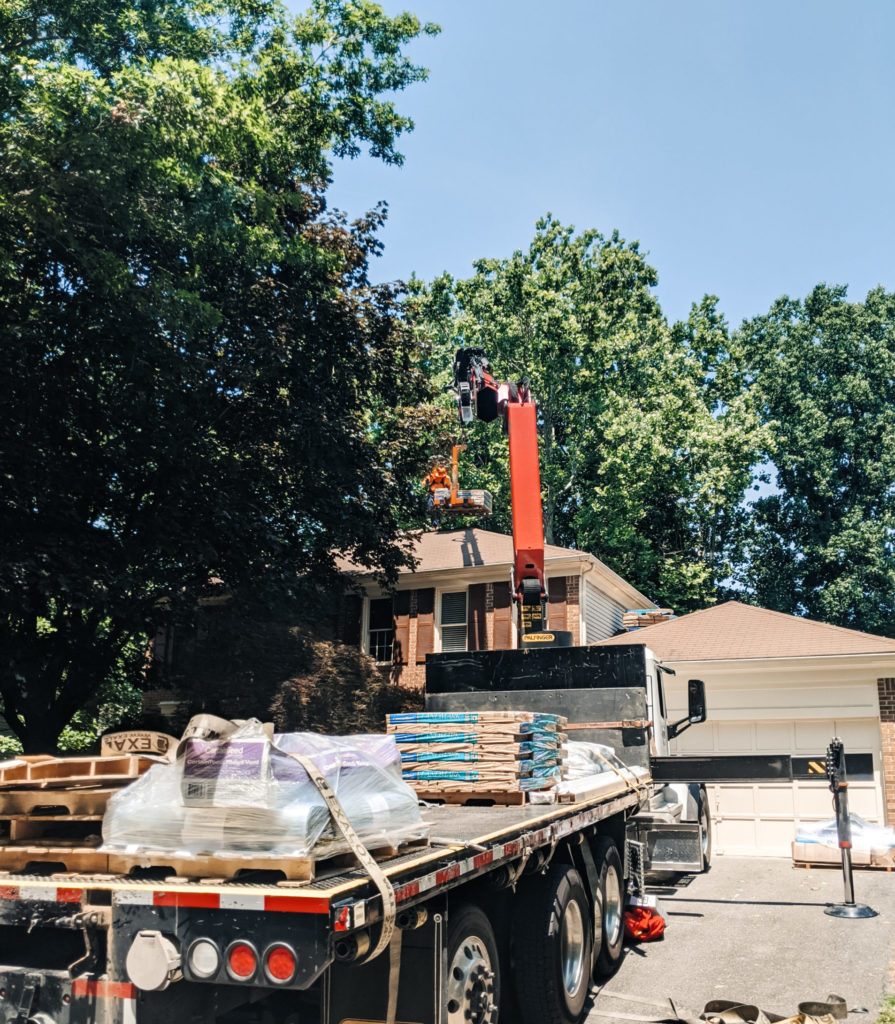 The new roof and siding were not in our plan at all. We knew we'd need them eventually because it was the original roof and the siding was made out of aluminum which is very difficult to cut or fix because they don't make it anymore so you can't replace it.
Lucky for us, we had a big storm come through about a month into living in the house. A company came to our door asking if we wanted to put in a claim. We were skeptical, but they offered to do all the work with the insurance company as long as they could do the work if the claim went through. We agreed because we figured there was no harm in trying. Turned out to be a great decision.
The new roof and all of the siding on our house ended up being completely covered by insurance!
After selecting our shingle color, they delivered them onto the roof in large pallets.
They then proceeded to tear the old roof down to the frame. Since the roof was so old, they ended up having to replace a lot of the plywood due to water damage and rot. Luckily for us, this is before the cost of plywood really went through the roof.
(see what I did there??)
The new roof took about 2 days to fully remove and install. In the dead of the summer heat, these guys were incredible!
Now I know what you guys are thinking… the new black roof looks great, but the color scheme is a little bit of a mess… don't worry! It's getting there!
A couple weeks later, it was time for siding. We were really close to pic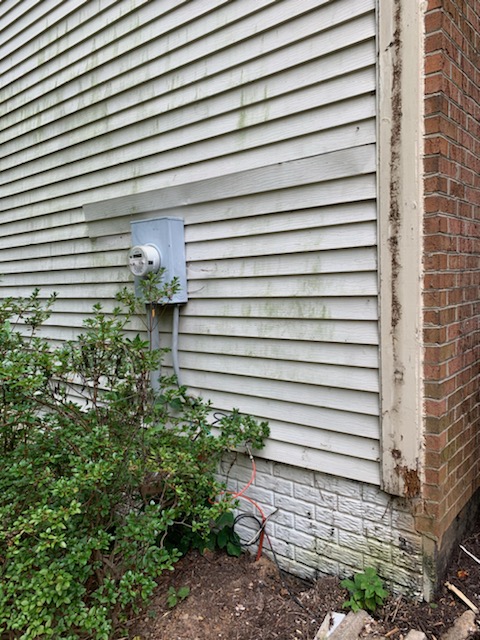 king a light grey color that would have made the back of the house pop, but we just couldn't see it working with the brick. So, we opted to go with an updated version of what is already there.
As you can see the existing siding was in ROUGH shape. It had been damaged in many places, it hadn't been cleaned in years. We were very excited to see it go.
We opted for a cream vinyl siding and I think the results speak for themselves.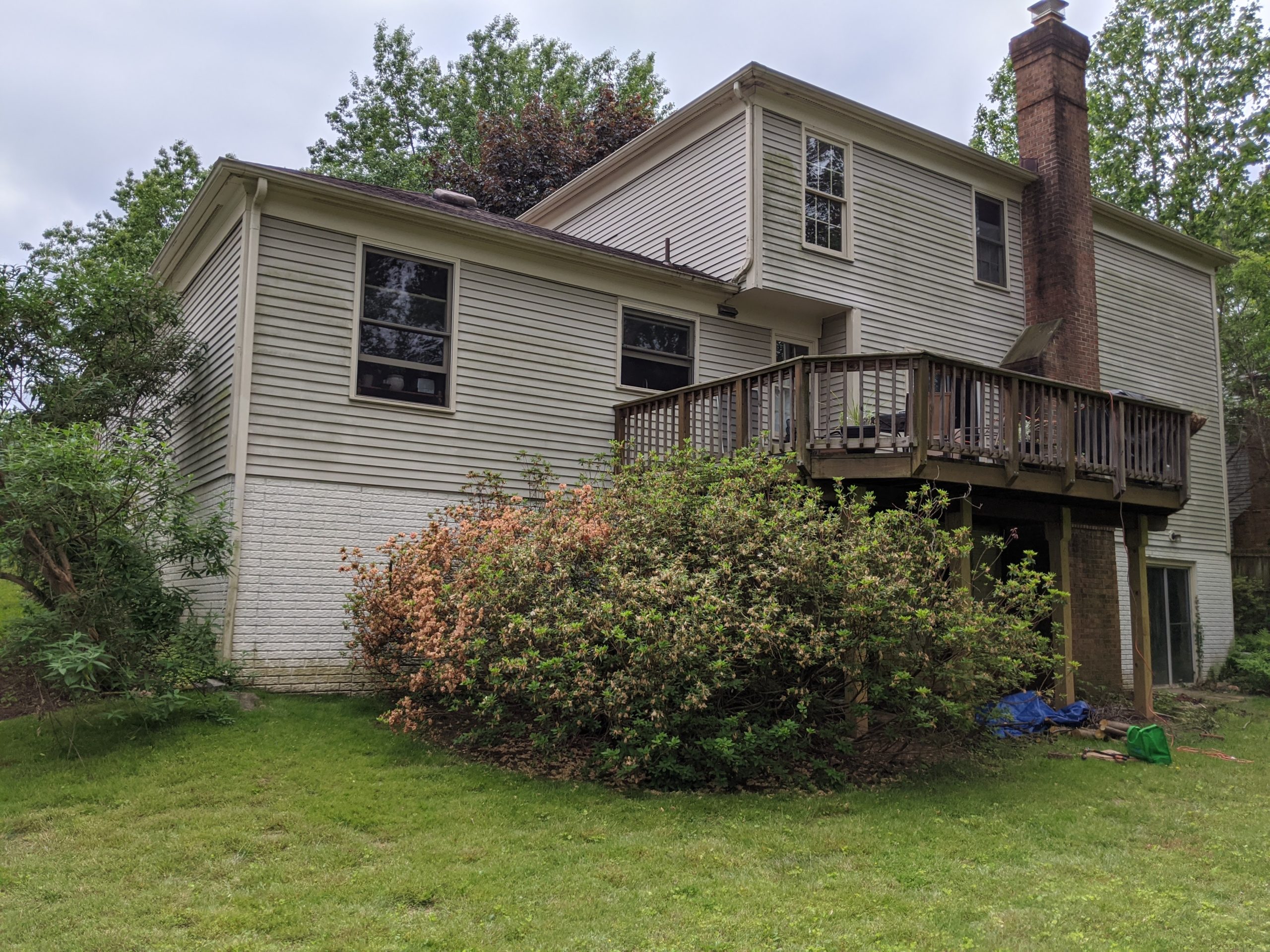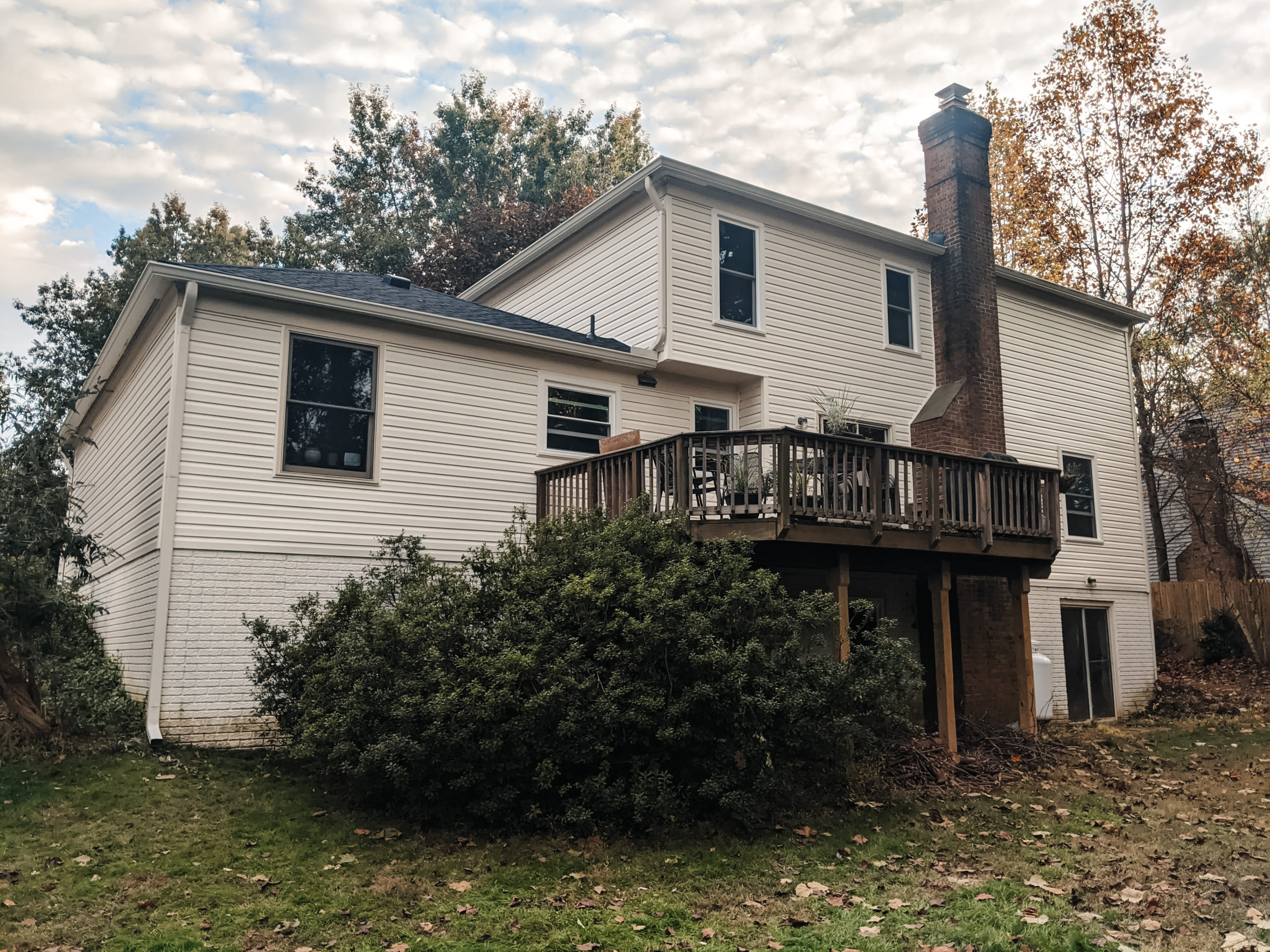 The Windows
The windows have been a longgg process. We started ordering windows in May of 2020 and as of today are still waiting on our last one.
The existing windows were the original ones and were made of wood which meant they were crumbling, not energy efficient and some of them didn't even open.
As I'm sure you can guess, windows can really change the look of your house especially when you're going for an updated colonial home look and we went BOLD with black windows. For more on windows, check out the link above!
Add a Little Paint to the Party!
Finally, we painted. We really needed another dark color to help anchor the space. After trialing a couple of grays, we opted for this dark charcoal to really make the black pop but also work well with the brick.
We painted the garage door and the front door for now, but I have a feeling we'll be adding some more gray or black trim accents in the future. All suggestions are welcome!
All of these changed made our updated colonial home really stand out on our street. (In the best way!) The exterior of our house is full of projects we didn't ask for and didn't know we wanted, but we're so excited to have a house looking more in line with our vision. Next stop, curb appeal!