The sliding door update was kind of a last minute decision. It was the final door on the main floor that needed the 3 ½ inch trim and since I had some left over from our front door project, I thought why not? The decision to PAINT the sliding door was 100% spur of the moment and I am SO GLAD I did it! Here is an easy way to get black metal sliding doors.
I should preface this by saying that our plan is to eventually replace the door. It's old, kind of busted and not energy efficient at all. But that plan isn't happening for at least another year so I figured, let's make it pretty! It also made me much more confident in experimenting with this project. I figured, worst case scenario and it looks horrible, We're getting a new one eventually anyway!
For the molding, I stuck with the same layout I had for the other doors in our house using MDF craftsmen molding.
This project was so last minute I completely forgot to take a before photo, but I have a SUPER before photo from the very beginning when we moved in. Here you have our old mantel and an awful soffit in there for good measure, but you get the picture: metal frame, old traditional trim… standard colonial house sliding door. We took the blinds down a long time ago, but even without it, this door is not attractive.
Now this project differs slightly from the other doors primarily because this was made of straight metal. I was very concerned about the paint chipping right off (actually still am), but I gave it the best shot by priming the area with KILZ Original Interior Primer. I chose KILZ over our drywall primer mainly because it's oil based so it adheres to surfaces better.
Also, because it's oil based it's a pain in the but to get out of brushes. I used a disposable foam brush for this job. If you plan to use your brushes, just be prepared for a long cleanup process.
Am I 100% sure the primer will work? No. KILZ is not designed for straight metal so I don't expect it to last forever, but I'll keep you updated on how it does overtime.
I finished installing the new molding first which already made a huge difference in the room and then applied my tape around the door. Taping glass can be pretty controversial as it sometimes does more harm than good, but since I was using the oil based primer, I figured it was worth the risk.
Once the primer was dry, I used the Black Satin paint by BEHR again. Maybe it was the primer, but I felt like it stuck to the metal better than on the other traditional doors I had done!
One thing that I do want to mention was when I pulled off the tape it pulled off some paint in certain sections. I feel like it happened more on the metal than a traditional door and I ended up going back over the door with a small paint brush. Like I said, it's controversial for a reason, but I think in my case, if I had to do it again, I would probably still do it the same way.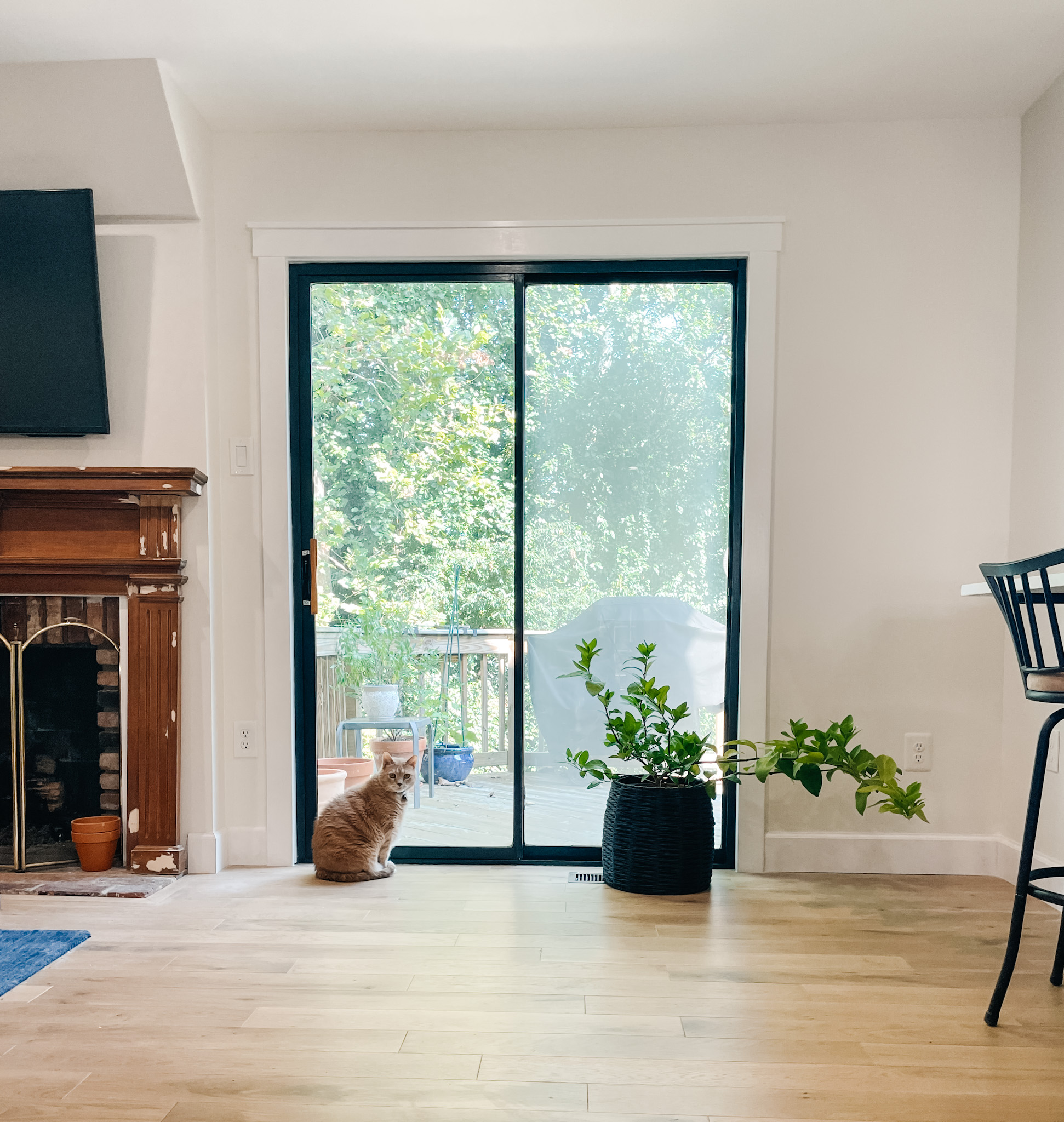 The finished product is gorgeous. Even if it needs touchups down the road, it was totally worth it to get these beautiful black metal sliding doors!
UPDATE: (6 months later) So far we have not had a single chip on our door. Surprisingly even on the bottom where the door slides or the security bar gets thrown. In that regard its a success! I will say the one area that I have noticed a difference is the door moves slower than it used it. Mind you, it doesn't get stuck so it's not a huge issue, but I can definitely notice a difference in traction compared to the original metal. So far, I completely standby the durability of this project. It was such an inexpensive and quick update for a completely modern look!